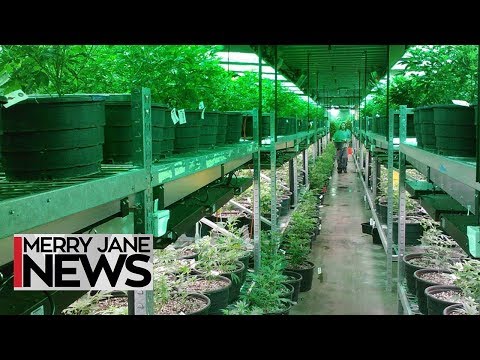 https://cannabisexaminers.com/wp-content/uploads/2018/11/1509/how-to-have-a-legal-cannabusiness-in-california-merry-jane-news.jpg
Subscribe to the MERRY JANE Newsletter for the latest video releases and everything cannabis: https://goo.gl/Yc7jSN
See full transcript below:
For California residents, Proposition 64 is now in effect. The ballot measure voted on in 2016 will allow the sale and private consumption of recreational marijuana. For ganjapreneurs, this prop also means that businesses need a state license to sell weed for recreational use in 2018. There are many considerations when opening any business, let alone one responsible for smoking out your neighborhood.
Here's everything you need to know about opening a legal cannabusiness in The Golden State.
First, every business must have a business plan that satisfies the needs of customers and clients. Whether you're looking to open a retail weed store, manufacture marijuana products, cultivate weed, open a testing facility, or become a distributor, you'll need to make sure your biz is gonna boom once it's open. Also, make sure you have the funds to start such a venture. You'll have to secure financing, investors, and startup costs before embarking on this journey.
However, if you're thinking about opening a giant weed operation, you may want to wait: Prop 64 specifically prevents large-scale marijuana businesses from getting licenses for the next five years.
Next, think about where your business will be located. According to Prop 64, licenses will not be granted to any cannabiz within 600 feet of a school, day care center, or youth facility. Some neighborhoods and towns also have zoning restrictions that may prohibit a certain number of weed shops from opening or may require additional licenses or taxes. You may want to check out the competitive landscape of the area, and speak with other cannabusiness owners about their experiences selling weed products in that community.
If you already have a cannabusiness, medical or off-the-books, in California, you'll want to make sure you pay your taxes before applying for a license. As of September 2017, lawmakers are requiring all existing weed ventures to pay their taxes if they want to keep selling weed.
Now you're ready to apply for a seller's permit on BOE.ca.gov. Each jurisdiction issues recreational weed licenses differently, but many have limitations on how many they will be giving out each year. So, your application really has to stand out and may be scored on a rubric. Reassure local government by partnering with other area businesses who can vouch for you. An application that promotes diversity and gender-balanced leadership also helps the community. Share your plans for environmentally-friendly initiatives and safe practices. And of course, you should be able to prove whether or not you have the cash flow to fairly compensate your employees.
Every community is different, so you should definitely do your research. Some areas, like Humboldt County, have checklists which show prospective businesses every piece of documentation and identification needed to apply. Others encourage new cannabusinesses to attend city council meetings or check in with local officials to get a feel for what businesses are and aren't approved. In San Francisco, it is also required that you receive referrals from the Fire Marshal, Planning Department, and the Mayor's Office prior to even applying.
Finally, you should be aware of regulations and compliance rules as we head into 2018. Local lawmakers had until January 1st to update existing cannabis laws and draft new ones, watch for changes that may affect your business plan. These changes can be found on the websites of local jurisdictions.
Ok ganjapreneurs, go out there and make that money!
Read more on MERRY JANE:
https://merryjane.com
Follow MERRY JANE!
Facebook: https://www.facebook.com/merryjane
Instagram: https://instagram.com/merryjane
Twitter: https://twitter.com/merryjane
Snapchat: https://www.snapchat.com/add/merryjanemedia
Subscribe to MERRY JANE's channel: http://www.youtube.com/c/merryjane
Read the Full Breakdown of this only on MERRY JANE:
https://merryjane.com
Follow MERRY JANE!
Facebook: https://www.facebook.com/merryjane
Instagram: https://instagram.com/merryjane
Twitter: https://twitter.com/merryjane
Snapchat: https://www.snapchat.com/add/merryjanemedia
Subscribe to MERRY JANE's channel: http://www.youtube.com/c/merryjane