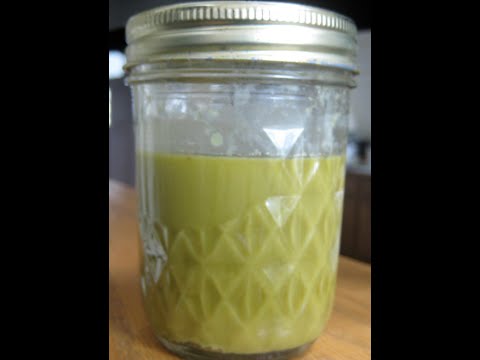 https://cannabisexaminers.com/wp-content/uploads/2018/11/631/hqdefault.jpg

We had a lot of left over cannabis trim in the lab and decided to infuse some coconut oil with it. We used 32 ounces of coconut oil and I'm honestly not sure how much trim, but a fair amount. I prefer to use just flowers but times being what they are, we'll use what is available.
Once the oil is melted, we mixed the trim/vegetable matter into the oil and turned the heat to medium, until the oil started to boil, when we turned to the heat to simmer the oil and herb.
While shooting the video I realized that I had some left over coco-canna oil from the last batch and figured I would mix it with the new batch. I am moving soon and if I do not use it before I leave it will be gifted to someone who needs it.
After about an hour of simmering the mix, we strained it through cheese cloth and a metal strainer. If you can get some heat resistant gloves to squeeze more cannabis oil out of the cheese cloth.
We 'decanted' the oil and will let it cool to use in making some brownies over the next few days.
If you have recipes for making oils or butters with cannabis please post them in the comments section under the video.
We hope you enjoy the show and please subscribe!
Check our other videos for strain reviews and gardening tips. Like and comment! Thanks and stay lifted!
Please subscribe to our website at www.uptowngrowlab.net
Follow us on Twitter and Instagram @uptowngrowlab
Please subscribe to our YouTube Channel https://www.youtube.com/channel/UCw0L…
Buy our book, The Kitchen, on Amazon: http://amzn.to/1IDBcR7