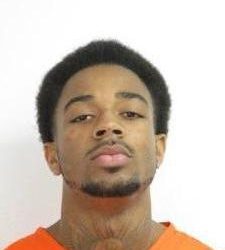 https://cannabisexaminers.com/wp-content/uploads/2020/07/5f13904b5de35.image.jpg
A 20-year-old former Lawton Community Corrections Center inmate is accused of having just under a half-ounce of marijuana in his locker during a May inspection.
The Comanche County District issued a felony arrest warrant Friday for James Marquise Sloan for possession of contraband (drugs) by an inmate, records indicate. Due to prior convictions, he faces between 15 to 60 years additionally in prison if convicted.
Investigators accused Sloan of having the marijuana on May 16, according to the charge. A correctional officer discovered 13 grams of pot inside Sloan's locker at Oklahoma Department of Corrections (ODOC) correctional facility, 605 SW Coombs, according to the probable cause affidavit. There is no indication as to how investigators believe he was able to get the marijuana into the facility.
Sloan has prior felony convictions in Tulsa County from April 2019: possession of a firearm after former felon conviction, possession of controlled drug with intent to distribute, and robbery with a firearm, records indicate. ODOC records indicate he is currently being held at North Fork Correctional Facility in Sayre.