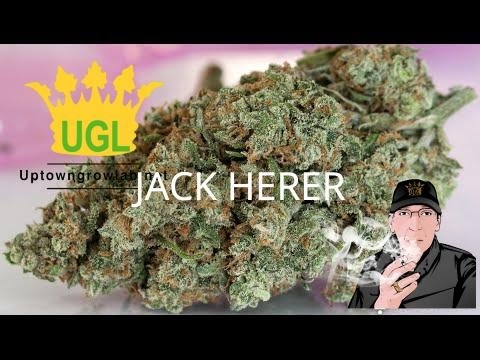 https://cannabisexaminers.com/wp-content/uploads/2018/11/671/hqdefault.jpg

Please visit www.uptowngrowlab.live for more reviews, live streams and GIVEAWAYS!! This a marijuana strain review of the Jack Herer Strain we picked up at the Belmar shop in Bellevue WA. This Jack Herer Strain was grown by Phat Panda in their 'Bong Buddies' series. These are the popcorn flowers, small but still effective. Phat Panda notes that this is a sativa dominant strain.
Potency analysis of this particular sample of Jack Herer totaled 21.7% with THCA 24.2 and CBD 0.3%
We crushed the Jack Herer strain flower and it reminded Tweezy of the smell of the legendary Jack Herer that he smoked in Amsterdam years ago.
Jack Herer was a pioneering and significant cannabis activist, who wrote 'The Emperor Wears No Clothes' which pointed out the absurdity of the United States' official attitude towards hemp and cannabis.
The Jack Herer strain was originated by the Sensi Seed Bank in Amsterdam and they describe the strain on their website www.sensiseeds.com
Jack Herer strain is a three way cross of a Haze hybrid, Northern Lights #5 (NL5) and Shiva Skunk. Tweezy remembers being in Amsterdam in the mid-90s trying to find it and going into the Sensi Seeds shop and being taken to the grow room by Alan Dronkers who showed him some unstabilized Jack Herer plants. Mr. Dronkers was focusing on Super Silver Haze at the time.
This smells just like the Jack Herer from Amsterdam back in the day. It is a very smooth smoke.
Phat Panda did a great job with this, it has a mild sweet flavor, it is not over powering or overly aggressive. It's a more controlled smoke, it kind of stalks you down in a Miguel Coto way—real patient in a cool calm and collected way and before you know it you will be hammered.
This is a true rendering of the classic Jack Herer Strain and brings back so many memories in our minds of what we did while smoking Jack Herer.
The Jack Herer Marijuana Strain is one of the most reworked and cross bred strains along with Skunk #1, Northern Lights and classic Afgans.
This seems to be a true representation of what Jack Herer is supposed to be. Phat Panda you pulled it off. When it is done right it is done right. It is a very cerebral high but with great body relaxation effects, though I am energized an focused on what I have to do today. It is not a couch lock smoke. Once you smoke it and focus on something you can stay focused with it.
It is a classic 90s strain that has not lost its relevance or power and a great catalyst for getting creative juices flowing and for long conversations with your friends and colleagues.
We hope you enjoy the show and please subscribe!
Check our other videos for strain reviews and gardening tips. Like and comment! Thanks and stay lifted!
Please subscribe to our website at www.uptowngrowlab.net
Please subscribe to our YouTube Channel https://www.youtube.com/channel/UCw0L…
Buy our book, The Kitchen, on Amazon: http://amzn.to/1IDBcR7