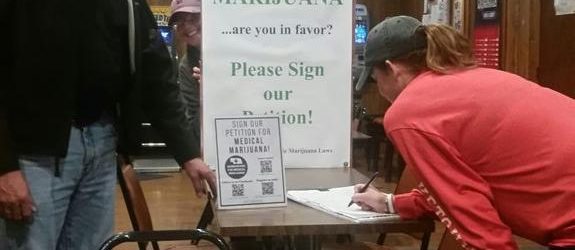 https://cannabisexaminers.com/wp-content/uploads/2020/06/5ee4095ba4dfb.image.jpg
Over the past year, Fremont City Councilmember Mark Jensen has been collecting signatures across Dodge County to get a medical marijuana constitutional amendment on the Nebraska ballot.
The Nebraska Medical Marijuana Initiative, which is gathering signatures across the state, would add an article to the Nebraska Constitution that would legalize medical marijuana.
"It's the right to use, possess, access and safely produce cannabis products as recommended by a nurse practitioner or physician," Jensen said. "It has to be recommended. You can't get it without a serious condition."
Jensen became involved with the push to get the amendment on the upcoming November ballot after reading about the issue on Facebook.
"I just made a comment that I was interested and let them know that I was semi-retired and that this was something that I wouldn't mind lending a voice to," he said.
Since then, Jensen has worked across the county collecting signatures. He's held events at the Dodge County Courthouse, Keene Memorial Library and even his own front yard.
"I've done very well here," he said referring to getting petitioners outside his home. "I should have been doing that early on."
The ballot initiative was filed by State Sens. Anna Wishart and Adam Morfeld in May 2019 after a bill seeking medical marijuana legalization introduced by Wishart and co-sponsored by Morfeld stalled in State Legislature.
As of February 2020, 33 states and Washington, D.C., have passed laws either legalizing or decriminalizing medical marijuana. An additional 15 states have legalized the use of cannabis oil.
Nebraska remains the only state to not allow either medical marijuana or the use of any type of cannabis oil. Idaho has not legalized medical marijuana, but it has legalized the use of a specific brand of FDA-approved cannabis oil.
Currently, Jensen has collected around 1,650 signatures since beginning last Spring. He said he still needs to collect around 300 signatures to reach his goal of 2,000 signatures.
Jensen is facing a tight deadline to gather the remaining signatures. The filing deadline for signatures is July 2, meaning Jensen only has a couple of weeks to gather the necessary votes for the county.
"I'm going to go around and collect through the weekend of the 27th and 28th," he said.
COVID-19 impacted his ability to gather signatures for the county, as well. Jensen said he was out for a couple of months during the pandemic.
Nebraskans for Medical Marijuana officially suspended volunteer and paid signature gathering efforts on March 19 due to the virus. Those efforts resumed on May 14 with added safety precautions, such as the use of personal protective equipment.
"It took away two full months," Jensen said. "At that time, they were just planning on rolling out paid petitioners in the field. They were expressing this to be a prime signature gathering time, but we lost eight weeks of that."
Despite the setback, Jensen feels confident he will be able to reach his goal by the deadline.
"Statewide is confident that we can get there so I'm confident that I can do my part in Dodge County," he said. "I have a pen and will travel, that's kind of my plan anyway."
Jensen will hold a signature-gathering event on the northeast corner of 21st and I street on Saturday from 9:30 a.m. to 2 p.m. and plans to travel to families during the Father's Day weekend to collect signatures.
At times, Jensen said it can be frustrating running into opposing views on medical marijuana. He believes medical marijuana legislation could have been passed years ago, but some see the name alone and are turned away.
"If they did not have the terms 'cannabis' or 'medical marijuana' associated with it, they would have been passed years ago," he said. "They're immediately closed off to it."
Jensen added that some have told him that they would be willing to vote for the amendment if it appears on the ballot, but they're hesitant to sign a petition because of fear from employers.
"It is a public record, but I don't advertise names or anything," he said.
Some also associate medical marijuana with recreational use, which Jensen said are completely different issues.
"I don't care where you stand on recreational use, but it's a different conversation at this time," he said. "To not have this available to people who need it is borderline criminal in my mind."
Jensen said his driving force throughout this process has been the people who believes would benefit from the legalization of medical marijuana.
He said it can be beneficial to older people who suffer from arthritis, as well as those recovering from surgery or going through chemotherapy.
"That's what struck me and given me the resolve to work," he said. "The driving force is for the medical end of it, the pain management end of it, especially for our older population."