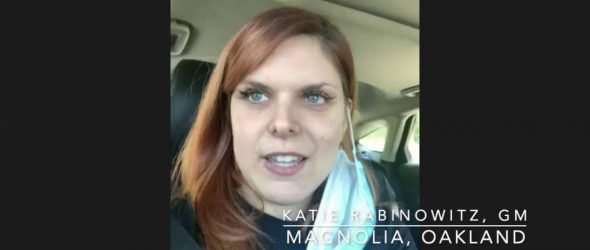 https://cannabisexaminers.com/wp-content/uploads/2020/04/magnolia-oakland-1250x703.jpg
(Last Updated On: April 30, 2020)
ONN – Katie Rabinowitz Of Magnolia Oakland Talks Cannabis Trade In West Oakland
This is another great Oakland-focused YouTube video by Shani Shay. Ms. Shay writes:
Katie Rabinowitz, general manager at Magnolia Oakland talks in and outs of the cannabis trade in west Oakland.
And in this excerpt, Ms. Rabinowitz talks about the over-taxed Oakland cannabis industry:
"In Oakland I would say it's kind of an uphill battle. It's kind of a five foot forward, kind of, two steps, or sometimes ten step back. Right now, the taxes are at a point to where they're so excessive, that not only is it a really tough burden for companies, but the consumers also hit.

And because cannabis, especially California cannabis, Bay Area cannabis, has been around you know 96, from 1996, and even before then there were already these kind of formed relationships between the providers and then for the consumers. So when the taxes were so how did consumers can participate in dispensaries like they once had and the providers?

You know, the barrier of entry was so high, they didn't, you know, have the financial ability to move forward. Or, you know, regulations were so challenging that they weren't able to get a building. Or, you know, there was just so many challenges that there's so much more potential, and it's a little bit disappointing the fact that for a city that is so kind of set on trading a thriving cannabis economy, but they haven't recognized the fact that maybe having the highest city tax in the entire state isn't really ideal. Or having taxes or very eventually being so high that investors and funders don't want to support businesses in Oakland. They want them to go to other cities because it's not a sound business decision so there's a lot of challenges."
And if you're considering cannabis delivery in Oakland, check out Flowsentcheck out Flowsent.
Stay tuned.
Note from Zennie62Media and Oakland News Now: this video-blog post demonstrates the full and live operation of the latest updated version of an experimental Zennie62Media , Inc. mobile media video-blogging system network that was launched June 2018. This is a major part of Zennie62Media , Inc.'s new and innovative approach to the production of news media. What we call "The Third Wave of Media". The uploaded video is from a vlogger with the Zennie62 on YouTube Partner Channel, then uploaded to and formatted automatically at the Oakland News Now site and Zennie62-created and owned social media pages. The overall objective is smartphone-enabled, real-time, on the scene reporting of news, interviews, observations, and happenings anywhere in the World and within seconds and not hours. Now, news is reported with a smartphone: no heavy and expensive cameras or even a laptop are necessary. The secondary objective is faster, and very inexpensive media content news production and distribution. We have found there is a disconnect between post length and time to product and revenue generated. With this, the problem is far less, though by no means solved. Zennie62Media is constantly working to improve the system network coding and seeks interested content and media technology partners.
via IFTTT
https://www.youtube.com/watch?v=Z9aW0ymp710
Oakland News Now is by Zennie62Media, Inc. with CEO Zenophon Abraham AKA Zennie62 YouTube Partner, Oakland California blogger / vlogger Zennie Abraham. Hire Zennie62Media, Inc to tell your story.
Zennie62Media uses smartphones enabling our 98-blog network, specially-made blogs, website, social media platforms covering politics, news, sports, and tech, Oakland city news, Oakland City Council, North Oakland, East Oakland, Montclair, Adams Point, Uptown Oakland food culture, BBQ Becky Jessica Schulte, Jogger Joe Henry Sintay, Oakland crime news, Bank of America loans, COVID-19 updates, homeless news, SF Bay Area news, breaking news bay area, Atlanta news, Chevron Ecuador, Steven Donziger, Fayetteville GA (Fayette County Georgia) news, San Francisco news, San Jose news. Also, Academy Awards / The Oscars and entertainment, Oakland Sports, Oakland Panthers, Oakland Coliseum, Oakland Arena, Oakland Raiders, Las Vegas Raiders, Las Vegas Stadium Construction, Allegiant Stadium, NBA, NFL, NFL Draft, NFL Combine, events like CES Las Vegas for tech and San Diego Comic Con for sci-fi.
Zennie62Media has content development and online reputation management clients like Insight Terminal Solutions and The Oakland Bulk and Oversized Terminal, with California Capital Investment Group Managing Partner Phillip Phil Tagami as co-developer and John Siegel as CEO of ITS – exposing fake news about coal and Oakland. Zennie62 has helped Maria Ayerdi Kaplan, the developer of Salesforce Transit Center in San Francisco, Kofi Bonner, and Flowsent capture the Oakland cannabis delivery market (with fitness model female bodybuilder Laura Ehlen and weedmaps help). We've partnered with CoLoursTV, CNN, YouTube, Google, NBC, Vice, Oakland Post / Post News Group, Landis PR, and other media organizations. Competition: The SF Chronicle, Las Vegas Review Journal, East Bay Express, and Oakland Tribune.
Zennie62 has interviewed celebrities like Lars Frykman and Bill Boyd, Arizona Cardinals QB Kyler Murray, Raiders Owner Mark Davis, Raider Legend Raymond Chester, NY Giants Owner John Mara, Sports Talk Maven Tony Bruno, Sports Agent Leigh Steinberg, Oakland's "Jogger Joe", NFL QB Cam Newton, NFL Commissioner Roger Goodell, California Governor Gavin Newsom, Actors Richard Dreyfuss, Lou Ferrigno, Lindsey Vonn hot legs, Blake Neely, SDCC's David Glanzer, Publicist Edward Lozzi. And topics like Oakland Apartment rents, WordPress, CVS Mail Order and Pharmacy, Kaiser Permanente, Rosa's Home Cooking Restaurant, The Studio Cafe, The Oakland City Council, Mountain View, CA, London, England, Moscow, Russia, blacks in tech, Jameis Winston, Pinewood Studios Atlanta, Derek Carr, Marcus Mariota, Yanqing Ye, UC Berkeley, NFL Owners Meeting, NFL Annual Meeting, Eli Lilly Coronavirus COVID-19 vacine.
Also Pat Abraham Yerger, Oakland Mayor Libby Schaaf, Councilmember Nikki Fortunato Bas, Dan Kalb of District 1, Loren Taylor, Lynette Gibson McElhaney, Sheng Thao, Noel Gallo, Robert Bobb, Rebecca Kaplan, Larry Reid, Tech Entrepreneur Sarah Lacy, Personal Trainer Megan Avalon Buffed Barbie, Social Media Pioneer Marc Canter, SF Mayor London Breed, CA Assemblymember Buffy Wicks, Schools Superintendent Tony Thurmond, Berkeley Councilmember Ben Bartlett, Raiders Charles Woodson, 49ers Jerry Rice, Grand Lake Theater Oakland Owner Allan Michaan, Irvine City Manager John Russo, Guy Fieri, Oakland CAO Edward Reiskin, Raiders Coach Jon Gruden Running Back Josh Jacobs, Stanford HC David Shaw, Tri Ngo, Falcons Coach Dan Quinn, Michael Mina, and NFL Draft Mr. Irrelevant Head Melanie Fitch and Paul Satala. Subscribe to Zennie Abraham's Zennie62 YouTube Channel, today!