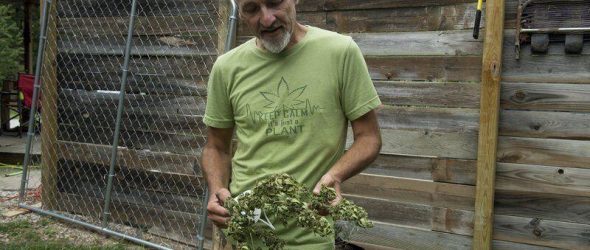 https://cannabisexaminers.com/wp-content/uploads/2020/08/5f387a98bfabd.image.jpg
The number of Missourians granted medical marijuana patient cards has more than doubled from last year, but with ongoing delays because of factors such as COVID-19, many are left wondering when dispensaries will be open with products readily available.
There have been 57,354 cards approved to patients since the start of the medical marijuana program, which was approved by voters in November 2018, according to the Missouri Department of Health and Senior Services. A consulting firm used by the state had estimated there would be close to 50,000 patients after the first year of the program and close to 150,000 patients by the third year, said Lyndall Fraker, director of the department's Section for Medical Marijuana Regulation.
"They all told us that we should expect a 2% to 3% adoption rate of your state's population, which (in) Missouri is 6.1 million," Fraker said. "This means we would have somewhere between 120,000 and 180,000 patients after three years. We really built our program around that."
Meanwhile, cultivators expect to have their first crops ready by the end of September, which means dispensaries could be open and selling other items but won't have flower products readily available until after the summer, Fraker said. And businesses in the medical marijuana industry — including planned dispensaries in Joplin, Neosho and Carthage — are eager to get off the ground.
An official with Flora Farms predicts that once dispensaries finally open their doors, there may not be enough products to meet the surge in demand. Flora Farms was awarded licenses for dispensaries in Neosho, Springfield and Humansville as well as a three-license cultivation facility in Humansville.
"If our calculations are correct, there won't be enough product to go around in the early days of the program," Mark Hendren, chief operation officer of Flora Farms, said in an email. "Missouri already has almost 60,000 patients, and there hasn't been one transaction in the entire state. We believe the number of patients will more than triple in the first year of having product on the shelves."
Hendren said his business is currently putting the finishing touches on its Neosho dispensary, 890 W. Harmony St., and has requested a commencement inspection from the state, which begins the final stage of review and inspection.
"The majority of the construction has been completed, and we're finishing the building with furniture, decorations and security equipment," he said. "We plan to be completely finished in the next few weeks. … Once the state reviews all of our documents, floor plans and security features, they will do a physical inspection of the facility, and when we pass, we'll be fully licensed to begin business."
He estimates that Flora Farms in Neosho could be open by Thanksgiving.
"We've been very fortunate that we haven't experienced any delays, but we are still waiting for cultivators and testing facilities to get up and running," Hendren said. "At this point, only a few cultivators have been commenced to begin growing, and no testing facilities have been commenced. We plan to open our doors once we get consistent access to product."
Economic impact
A medical marijuana dispensary named Shango, 2401 E. 32nd St. in Joplin, won't be opening its doors until late this year or early next year. Shango is a medical and recreational marijuana dispensary license-holder in several states, including Oregon, Washington and Nevada.
"We partnered with Shango to bring their experience and expertise to Missouri to make sure we could be prepared to serve the needs of our Missouri residents," said Julie Belk, vice president of medical affairs and a certified registered nurse anesthetist specialist in Springfield. "We are super excited to serve the population in Joplin. We're hoping we can have some job opportunity there to help grow the economy."
The Joplin group is renovating a 2,145-square-foot space at the shopping mall and will initially hire 20 employees. Belk said she was motivated to pursue the medical marijuana industry after working with patients who experience pain and illnesses.
"I think it's super important to have an alternative besides opioids when we see people with chronic pain," she said. "There's multiple different avenues and holistic things we can do to take care of the patients. I think this is a big one that will help a lot of people that we haven't had access to."
John Price, a lawyer in Springfield, serves as general counsel for Shango in Joplin. He said Shango's architectural plans are completed, and a contractor has been hired.
"The necessary permits to the state and the city are in place," he said. "We will probably be starting our build out here within the next couple of weeks. It will take about 70 days to build it out. Then we have to have the final state inspection. We anticipate that it will probably be between Nov. 1 and Jan. 1 when we open."
Price said the dispensary's opening timeline is fluid because it will be based on when products are available. He cited factors such as COVID-19 for further delaying the process.
"We will be open as soon as we possibly can for patients, but we don't want to open early and people be frustrated that we don't have product available," he said. "We're at the mercy of the manufacturers, cultivators and the state."
Dispensary alternatives
Some patients who don't want to wait for dispensaries to open have turned to homegrown operations or cannabis-derived products such as cannabidiol, or CBD.
Michael Forquer, a patient card-holder in Neosho, is a former flight paramedic and emergency medical services director. He has a home cultivation license and grows his own flowers on his property. He credits marijuana for saving his life after he contracted Lyme disease and Rocky Mountain spotted fever from a tick bite in 2011.
"I was on 18 different medicines, including morphine and oxycodone. I just happened to find some cannabis, and I started using it," he said. "One by one, I didn't need my medicines. I was on heart medicine because I had heart failure. My kidneys weren't working. I couldn't walk. My mom and some of my colleagues died from opioid overdoses, so I didn't like taking pain medication."
Forquer has now been legally licensed to grow at his home for one year, and he has six plants in flower in his outdoor garden. He also runs a group called Missouri Cannabis Collective that helps other growers cultivate on a budget.
"I can't afford to spend a lot of money," he said. "I'm on Social Security. I can't buy all of these fancy nutrients and lights, so I have bunnies and compost piles. This is why I started Missouri Cannabis Collective on Nov. 6, 2018, right after I got back from the voting booth. I don't know why I made it, but I just wanted to show people what I was doing with my life and what they can do with their own lives."
Alice Mangan, a registered nurse and Army veteran, opened her own CBD store at 530 N. East Road in Webb City last year. AliceCBD sells a variety of products for pain and ailments that contain no more than 0.3% THC, the main psychoactive compound in cannabis that creates the high sensation.
Mangan has suffered from multiple sclerosis, fibromyalgia, bulging discs and plaques on her brain for years, but she credits alternatives such as CBD for helping her get back on her feet again after being bedridden. She began exploring alternative options after experiencing negative side effects from doctor-prescribed medication and has now been using CBD for three years.
"The MS was so bad that I had slurred speech, and I couldn't remember things," she said. "They attributed it to my thyroid being off or carpal tunnel syndrome. Then they found the plaques on my brain and on my spine in an MRI scan. I believe between the CBD and all of the other cannibinoids … the plaques are gone on my brain. I just had another clean scan back in March. I know I've been plaque-free for at least a year and a half."
Mangan also hosts monthly workshops to help people acquire their medical marijuana patient cards.
"I help a lot of medical marijuana patients or longtime THC users that get cancer, arthritis or other conditions because high THC doesn't do all of it," she said.