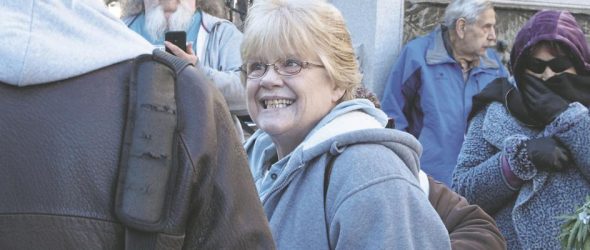 https://cannabisexaminers.com/wp-content/uploads/2020/01/5e26352f5bd75.image.jpg
Local marijuana activists lobby statehouse
Although this year's legislative session is just beginning, cannabis advocates from across the state, including Grant County, gathered on the steps of the Indiana Statehouse to push for legalization.
One of those gathered was Tina Marks, a lifelong resident of Indiana. She has worked at GDX Automotive for 21 years and is a nearby captain for the Indiana Chapter of the National Organization for the Reform of Marijuana Laws (NORML) in Wabash County.
Marks said the reason she was involved with the issue was her experiences witnessing the toll – both legal and illegal prescription drugs, especially opioids – have taken on her community.
"I'm down on big pharma. They have sucked me into it," she said. "This one plant can do so many things. People need to educate themselves and do research. … Our community, it's terrible. We have a meth problem. We have a heroin problem. I've lost a bunch of my friends. I'm disabled and it's just really hard. Indiana needs alternatives. It's not a cure-all, but they need alternatives. I do believe marijuana will help that problem."
Statewide push
Marks' local leadership is one part of Indiana NORML's statewide push to reach out to all 92 counties.
In early December 2019, Indiana NORML, which founded here in 1974, announced they would officially start operating as a 501(c) (4) organization.
"The not-for-profit conversion from a 501(c) (3) to a (c) (4) comes 45 years after the organization was founded, and fundamentally changes the way the organization operates," stated Steve Dillon, Indiana NORML treasurer. "This organizational change is a big shift of effort from a mostly educational stance, to initiating more direct community influence and action. … One noticeable difference in operations for the organization will be more community and legislative influence throughout the year. The organization can now lobby, support candidates who support better cannabis legalization efforts and freedoms, and outline where specific elected officials are seen as failing their constituents on cannabis reform."
Will Henry, Indiana NORML chairman, said as a part of this change, they now have connections in most Indiana counties.
"We've got advocates all over the state who have stepped up at this point, and they are ready for action," he said. "They are going to take action in their communities. They're going to visit their town councils. They're going to visit their county councils. And they are going to deliver a united message that this needs to be taken care of in the state of Indiana. No question. These are the folks who live in those communities who are going to be saying this stuff to their town councils, for their county councils."
Legislation filed
On Dec. 1, 2019, Michigan began retail sales of recreational marijuana. Illinois did the same Jan. 1. Recreational marijuana is still illegal in Ohio, but medical marijuana sales began in January 2019.
Despite all this change in neighboring states, Indiana still does not allow either recreational or medical marijuana.
However, in 2017, Gov. Eric Holcomb signed legislation allowing CBD oil with less than 0.3 percent THC for the treatment of epilepsy. In 2018, Holcomb signed another bill allowing the same for any purpose.
Sen. Karen Tallian, D-Ogden Dunes, has filed bills relating to marijuana legalization for years and is now running for Indiana attorney general.
"It needs to stop. There is no reason on God's earth we should still be arresting people for marijuana," she said.
Tallian said the Statehouse is "in a press" this year, referring to the pressure to change from seemingly all directions.
"They're all looking at this. We are now well behind the times in the state of Indiana. And it's time to move forward. I've filed my bills," she said.
Indeed, Tallian has introduced the following bills already this session:
n Senate Bill 112, which establishes the cannabis compliance commission to regulate all forms of legal cannabis in Indiana, including industrial hemp and low THC hemp extract.
n Senate Bill 113, which removes references in the Indiana Code to "smokeable hemp."
n Senate Bill 114, which removes provisions making the operation of a vehicle or motorboat with a metabolite of THC in the person's body (without proof of intoxication) an offense; reduces the penalty for possession of marijuana, hashish, hash oil and salvia to a Class C infraction for a first offense, a Class C misdemeanor for a second or subsequent offense, and a Class A misdemeanor for a second or subsequent offense if the person possesses more than a specified amount; reduces the penalty for possession of marijuana, hashish, hash oil or salvia packaged in a container labeled as containing low THC hemp extract to a Class C misdemeanor; and provides that a person's probation may not be revoked solely on the basis that the person tested positive for marijuana or a metabolite of marijuana.
Tallian said she was not hopeful any of these bills would pass, though.
"I will be very honest with you, we are not going to get marijuana legalized in this statehouse this year. It's not going to happen, but we're pushing. And you have to keep doing things one step at a time, one foot in front of the other. I've been taking baby steps for the past 10 years. We're still doing it. Talk to your legislators especially the ones in the Republican Party," she said.
Another legislator who has been working on the issue for several years is Rep. Sue Errington, D-Muncie.
"People feel the time is now to do something on this issue. We know that there are people who are suffering from medical conditions, that if they lived in another state could be getting some relief," she said. "It's coming all around us."
This session, Errington has filed House Bill 1163, which establishes a medical marijuana program, and permits caregivers and patients who have received a physician recommendation to possess a certain quantity of marijuana for treatment of certain medical conditions; establishes a regulatory agency to oversee the program, and creates the regulatory agency advisory committee to review the effectiveness of the program and to consider recommendations from the regulatory agency; authorizes the regulatory agency to grant research licenses to research facilities with a physical presence in Indiana; and repeals the controlled substance excise tax and the marijuana eradication program.
"We can see in these other states, they're not waiting, and we don't want to wait any longer, either," she said. "I think it you got underneath the leadership in the General Assembly, I think you would find a bill would pass."
Local legislators respond
In a recent phone interview, Rep. David Wolkins, R-Warsaw, said he would be in support of medical marijuana in Indiana "with some restrictions," but he "would not support recreational marijuana at all."
"I'm old school on that," he said, citing concerns about accidents caused by drugged driving. "Some of the states that have done it, it's a tremendous money-maker no question about that."
Wolkins said if medical marijuana were to become legal, there would have to be tight restrictions on who could prescribe it.
"No state has ever been able to do it where it didn't turn into recreational marijuana. You can always find some rogue doctor that'll write prescriptions for them," he said. "There are certain afflictions that there is no question medical marijuana does relieve pain and help."
In a recent phone interview, Sen. Andy Zay, R-Huntington, said he would follow the lead of prosecutors and law enforcement when it came to medical or recreational marijuana.
"To go to full-blown retail of cannabis, I don't think it's good policy," he said, citing concerns including homelessness and juvenile use.
Zay said he would first like to see the federal government remove marijuana from Schedule I of the Controlled Substances Act. It is currently listed there as a drug with "a high potential for abuse," "no currently accepted medical use in treatment in the United States" and "a lack of accepted safety for use of the drug or other substance under medical supervision."
"I think it would allow it to happen more fluidly," said Zay.
Zay said he has seen evidence that marijuana has "some merit to it medicinally."
"Cannabis can do a lot better job than some of the opioids that they're offering," he said.
However, like Tallian, Zay said he didn't see much hope of movement in the state this year.
"It's an intriguing conversation. It's something that we will continue to study and look at. I don't believe the appetite is there to do anything in the short session," he said. "Just to step out on a limb, I don't think it's necessarily a good thing for us to be doing."
Local legislators respond to increased efforts to make marijuana accessible