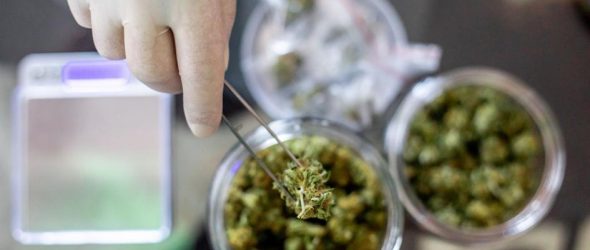 https://cannabisexaminers.com/wp-content/uploads/2020/04/5e88276dcf174.image.jpg
DeKALB — Recreational marijuna use has been legal in Illinois for three months. Gov. J.B Pritzker and The Illinois Department of Financial and Professional Regulation announced in a Thursday news release that cannabis sales in March totaled $35.9 million. The figure excludes taxes levied on cannabis.
 "Three straight months of consistent adult-use cannabis sales show there is – and will continue to be – strong support and demand from consumers," Senior Advisor for Cannabis Control, Toi Hutchinson wrote.
Additionally, Pritzker has decided to extend the deadline for anyone wishing to apply for a cannabis craftsmen grower, transporter or infuser license from March 30, to July 1. The state will issue up to 40 licenses for growers or infusers alike.
This all comes at a time when the state and federal government are attempting to combat COVID-19. Marijuana dispensaries remain open as part of the governor's executive action to close all non-essential businesses. The order even gives businesses the right to sell from any curb or public walkway adjacent to their place of business.These efforts are to limit the amount of contact necessary to continue conducting business while practicing social distancing. 
Sales in January and February were $39.2 and $35 million, respectively, according to the Department of Financial and Professional Regulation. 
The release also states the figures are pre tax and that at least a portion of the revenue will go to help communities that were impacted by the war on drugs. 
"These figures do not include taxes collected. A portion of every cannabis sale will be reinvested in communities harmed most by the failed war on drugs,"  as stated in the press release by the Illinois Department of Financial and Professional Regulation.