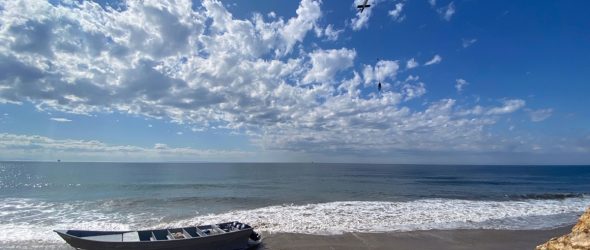 https://cannabisexaminers.com/wp-content/uploads/2020/03/031220-Panga-Bust-Copter-sbso-2000x1333_1200_800_s.jpg
Nearly three tons of marijuana and more than 40 gallos of cannabis crude oil were seized Thursday when law enforcement intercepted a panga boat along the Gaviota Coast, according to the Santa Barbara County Sheriff's Department.
At about 3:30 a.m., the U.S. Coast Guard alerted the department about a possible panga boat headed that way, said Raquel Zick, a sheriff's spokeswoman.
"The law enforcement team contacted numerous suspected transnational smugglers, who were in the process of unloading a 50-foot panga boat that had been beached about a half mile north of Gaviota, near Hollister Ranch," Zick said.
Twenty people were arrested, and investigators seized numerous plastic burlap style bags containing approximately 5,300 pounds of dried marijuana, as well as over 40 gallons of marijuana crude oil, Zick said.
Assisting in the operation were a county helicopter and K-9 units, the Ventura County Sheriff's Office, the California Highway Patrol, Homeland Security Investigations, and California State Parks.
"The panga boat and all arrestees were released to agents from the Department of Homeland Security and transported to a federal detention facility," Zick said.
She noted that the Sheriff's Department participates in the Department of Homeland Security's Operation Stonegarden Program, which helps to offset costs incurred while protecting local communities from the impacts of transnational smuggling occurring along the Santa Barbara County coastline.
— Noozhawk executive editor Tom Bolton can be reached at .(JavaScript must be enabled to view this email address). Follow Noozhawk on Twitter: @noozhawk, @NoozhawkNews and @NoozhawkBiz. Connect with Noozhawk on Facebook.
Bales of marijuana seized Thursday when a panga boat was intercepted along the Gaviota Coast. (Santa Barbara County Sheriff's Department photo)
Our professional journalists work tirelessly to report on local news so you can be more informed and engaged in your community. This quality, local reporting is free for you to read and share, but it's not free to produce.
You count on us to deliver timely, relevant local news, 24/7. Can we count on you to invest in our newsroom and help secure its future?
We provide special member benefits to show how much we appreciate your support.