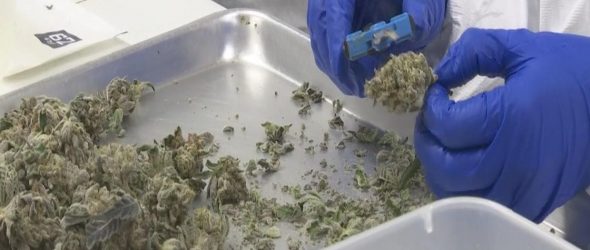 https://cannabisexaminers.com/wp-content/uploads/2020/03/5e699bdcb8577.preview.jpg
CARBONDALE,IL — The marijuana industry is looking to expand in douthern Illinois. The Carbondale City Council voted to sell property to a marijuana craft grow operation called C6 Farms. They also have plans to possibly open a dispensary, but that isn't a guarantee. The company still needs a license from the state.   
"I think it's going to be an absolute boom to our business ," said Owner of Mike's Music Michael Ricci.
There aren't even plans to break ground yet, but that hasn't stopped some people in Carbondale like Ricci from getting excited about the possibility of a marijuana grower and dispensary coming to town. 
"With the decline of the university within the last 20 years, Carbondale has seen a sharp drop with retail and business opportunities. The idea that Carbondale was open to getting a dispensary and potentially a grower, I think it's a fantastic opportunity," said Ricci. 
 The plans include possibly selling the land owned by the city to C6 Farms for $450,000. Carbondale Economic Development Director Steven Mitchell said this could have a big impact on the city.
"They expect to hire up to 30 and 40 employees just as a craft grower, not a dispensary. They also anticipate working with other cannabis-related businesses in the area to create a cannabis trail. We see not the only potential for retail sales tax, but also an opportunity to generate a lot more activity and interest in the city of Carbondale," said Mitchell. 
It's not a done deal yet. Mitchell said it's a very competitive process, and the sale of the property is contingent on the award of a state license which there are only 40 available.
Campus Comics owner Mike Noe said supports any business that brings jobs to Carbondale.
He said he's not against marijuana, but has safety concerns.
"It's going to be a substantial amount of cash if it is a dispensary. If it's not a dispensary and just a growing facility, are we going to have people breaking into places? And are we going to be collateral damage?" said Noe.  
Those are all questions that will be answered if the business gets its license. They'll be notified in May if they receive the dispensary license. They'll find out if they receive the craft grow license in July. If C6 Farms is awarded the licenses, they have six months to begin operations.