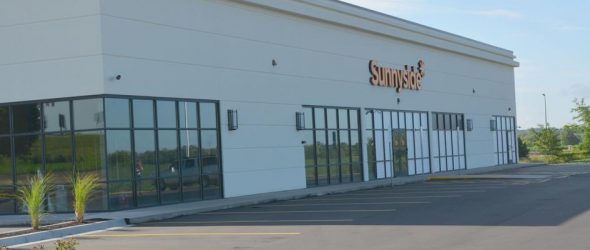 https://cannabisexaminers.com/wp-content/uploads/2020/07/5f08a216f2733.image.jpg
The Sunnyside Marijuana Dispensary in South Beloit is planning a ribbon-cutting and opening ceremony Monday .
The 7,200-square-foot dispensary, located at 7000 First Ranger Drive near the intersection of Interstate 90/39 and Highway 75, is the largest facility operated by Cresco Labs, according to a news release from the company.
It is also the company's eighth marijuana dispensary. Cresco also owns the Sunnyside Marijuana Dispensary in Rockford, Illinois, which was the site of long lines and traffic snarls earlier this year because of high demand for marijuana products.
Customers can place orders online and arrange pickup beginning Saturday, according to the release. Those who come to the store will be required to wear face masks in keeping with COVID-19 recommendations from the Centers for Disease Control and Prevention.
South Beloit Mayor Ted Rehl said the dispensary hopefully will provide a much-needed infusion of revenue for the city.
"In ordinary times, it would be a windfall. Now, it's a lifesaver—or at least part of a lifesaver," Rehl said.
Recreational marijuana sales to adults became legal in Illinois in January.
Under the law, municipalities can impose a sales tax of up to 3% on marijuana dispensaries. Under the development agreement, developer 2018 DT South Beloit will receive 75% of the revenue from that 3% sales tax for a period of seven years. The city will get 25% of the sales tax revenue over seven years.
The city estimates it could receive about $200,000 a year from marijuana sales, according to budget numbers.
Rehl said Police Chief Adam Truman has talked with dispensary operators about traffic and parking issues. He said all parties believe they have a good plan in place.
Rehl said Wisconsin customers who visit the business might need a reminder that while marijuana sales to adults are legal in Illinois, it is illegal to possess marijuana in Wisconsin.
Construction of the South Beloit dispensary, near the intersection of Willowbrook Road and Gardner Street behind the Road Ranger truck stop, began in December.
The dispensary will be open from 9 a.m. to 9 p.m. seven days a week.