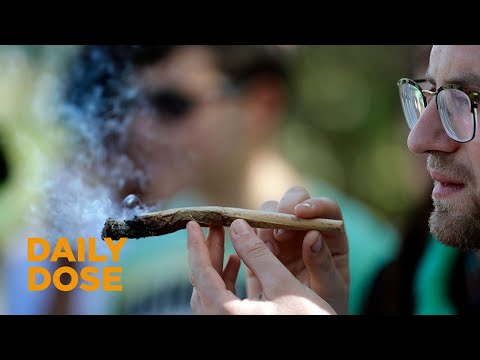 https://cannabisexaminers.com/wp-content/uploads/2019/03/4772/marijuana-emerging-as-israeli-elections-priority.jpg
DAILY DOSE | Security and the Palestinian conflict has been the dominant subject matter in the Israeli elections over the last three decades. But now, domestic issues are coming into the spotlight, and with it, the legalization of marijuana topic. Our Mike Wagenheim discusses with host Jeff Smith.
Story:
Israeli Prime Minister Benjamin Netanyahu said he would look into potentially legalizing marijuana. The move came in apparent reaction to recent polls showing a right-wing rival candidate gaining momentum ahead of the election after making legalization a platform priority.
Recreational use of marijuana is illegal in Israel, though recently politicians have floated relaxing enforcement.
Since the pro-legalization Green Leaf party announced it would not be running in Israel's upcoming April 9 elections, a nationalist right-wing party has managed to attract the attention of issue voters looking for cannabis advocates.
The fledgling right-wing 'Zehut' ('Identity') party led by firebrand former Likud lawmaker Moshe Feiglin is gaining traction in polls after making legalization a centerpiece of their election platform.
Apparently spurred by increasing attention for the right-wing rival, when asked about legalizing marijuana on Monday, Prime Minister Netanyahu said during a broadcast of his party's Likud TV that he was 'looking into it and will have an answer soon.'
The premier also said he has successfully 'led to some changes in this area,' noting recently relaxed regulations on medical marijuana, for both patient use and for exporters.
Welcoming Netanyahu's statement appearing to consider legalization, the Zehut party said: 'The direction in which the entire political system follows the firm stance of Zehut on the issue of legalization certainly strengthens our confidence that a large and strong Zehut party can bring legalization in the first session of the 21st session of the Knesset.'
'Legalization in Israel will save the lives of thousands of patients and will exempt many civilians from unnecessary persecution,' Zehut insisted.
Israeli daily Haaretz reported however, that Netanyahu 'looking into legalization' was likely referring to public opinion polls he recently ordered to be conducted on the issue, and not to a professional analysis.
For more, see below ⬇
For more, see our ⬇
Website
Articles: https://www.i24news.tv/en
Live: https://video.i24news.tv/page/live?clip=5a94117623eec6000c557fec (Subscription)
Replay: https://video.i24news.tv/page/5ab2981123eec6000caa0e93?utm_source=youtube.com&utm_medium=social&utm_campaign=daily_dose&utm_content=en2 (Subscription)
Social Media
Jeff's Twitter: https://twitter.com/jeffsmithi24
Facebook: https://www.facebook.com/i24newsEN/
Twitter: https://twitter.com/i24NEWS_EN
Instagram: https://www.instagram.com/i24news/