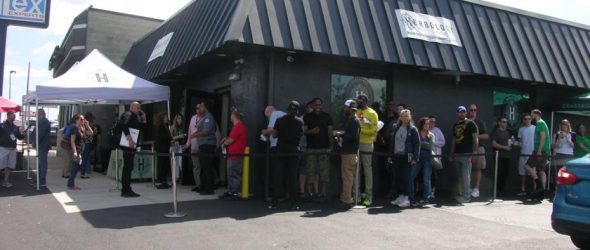 https://cannabisexaminers.com/wp-content/uploads/2020/08/5cd090adb90bb.image.jpg
While COVID-19 walloped many sectors of the economy with stay-at-home orders, shutdowns and layoffs, the medical marijuana industry appears to be booming, with the overall market doubling in size since February.
"As of now, the market is $1.3 billion, with sales from (growers/processors) to dispensaries more than $528 million and sales from dispensaries to patients close to $800 million," said Nate Wardle, press secretary for the Pennsylvania Department of Health. "For comparison, as of Feb. 10, the total sales were just under $700 million, with $282 million from (growers/processors) to dispensaries and sales from dispensaries to patients at approximately $415 million."
Pennsylvania joined the ranks of states providing a medical marijuana program with a bill signed by Gov. Tom Wolf in April 2016. The program came online with deliveries to patients about two years later.
The state initially counted 17 serious conditions that could be treated with marijuana following doctor approval, though that list has since been expanded to 23. Wardle said Friday that the top three medical conditions in the state cited to receive a prescription for medical marijuana are chronic pain, anxiety and post-traumatic stress disorder.
The law allows for a maximum of 25 grower/processors in Pennsylvania, as well as up to 50 licenses for dispensaries. Each dispensary may have up to three locations, for total of 150 dispensing sites.
Wardle said Friday that as of August 14, some 366,146 patients and 1,968 physicians have registered with the state. There are currently 1,416 approved practitioners and 231,760 active certifications, he said, though the state is seeking more pediatric specialists to be approved practitioners.
"More than 120,000 patients are visiting a dispensary each week, this is up from 73,000 in February," said Wardle. "Weekly purchases are close to 370,000 products, up from 178,000 in February."
As of Friday, there were 89 operational dispensaries and 22 operational grower/processors in Pennsylvania, Wardle said. Only 19 of the grower/processors are currently shipping product to dispensaries, but he said two more are expected to be shipping in the near future.
Though there have been shortages reported from time to time – including as recently as last week – Wardle said there have not been any widespread droughts of medical marijuana in Pennsylvania.
"Our grower/processors are expanding their facilities to ensure we have product available," he said. "What shortages do sometimes occur is with specific products and strains. Again, we are working to alleviate these as those within the medical marijuana program share information regarding the products that they are using."
Representatives for Herbology, which runs the only Delco dispensary in Morton, did not return a call Friday to gauge their experience with shortages. But Jon Cohn, CEO of Agri-Kind Inc., reported some competitors had seen product losses due to mold or bacterial issues through a particularly humid July.
"A lot of people say we overdesigned our facility for humidity problems, but as it turns out, I think we right-designed it because we're not failing microbial tests like many cultivators are," said Cohn. "We were hearing from dispensaries that we deliver to that other cultivators are having trouble with supply at this point. Historically, August, September is a dryer time for cannabis, but frankly in Pa., from our perspective, it's entirely humidity driven."
Humidity is a make-or-break issue for cannabis growing. Cohn said that when propagating earlier in the plant cycle, marijuana plants require almost a "steam room" atmosphere with 80 to 85 percent humidity. But humidity becomes the enemy near the end of the flower cycle because it can cause mold and microbial growth inside of buds, ruining crops, so it ideally needs to drop down around the 38 to 42 percent range as harvest nears.
"Where people struggle is the end of flower," Cohn said. "If the flowers are too dense and the room is too humid, the vapor builds up in the flower and then you end up with mold and microbials. It's definitely a challenge that people deal with in general."
Cohn said Pennsylvania also has a very strict testing regimen, which is good for the end consumer but also sets the bar fairly high in terms of getting flower to market.
"It really does protect the patients," he said. "It makes it much more challenging for the growers, but, you know, it's not like we all don't know the rules. And to that end, I think it's somewhat remarkable they've been able to build the program they've built with the tight legislation, but still having really strong access to the medicine for the patients."
Agri-Kind, an offshoot of Agronomed Pharmaceuticals in Exton, opened in June 2019 with a 48,000-square-foot facility on the 100 block of Broomall Street in Chester.
The company announced a planned expansion just a few months after beginning operations, but was hampered by coronavirus until just recently. Cohn said that expansion is now underway, however, and is expected to triple yields by as soon as the first quarter of 2021.
"Our flower space is almost double, and then we're going to go double-tier in that space," he said. "You don't always get exactly two times your supply – you get about 1.75 because you lose some efficiencies on that second tier – but we're pretty much doubling our flower space and we're planning on getting 1.66 times the amount of actual flower in that space, which would yield about three times total."
Cohn says Agri-Kind hopes to have plants in the new space by the end of the year and the first orders on those products to market about two months after that.
The company is currently at capacity in its space, he said, but is increasing yields through proprietary methods that have produced denser flower and more of it per square foot, which is the best the company can do until construction is finished.
Cohn said the pandemic has not impacted Agri-Kind or its approximately 50 employees too badly. There were some challenges around healthcare and child care, he said, and a couple of hiccups in the supply chain for things like packaging materials as China shut down early on – right around the time of Chinese New Year, which always impacts supply chains anyway – but nothing that resulted in shipments being delayed more than an aggregate of a week or two over the past six months.
"When we saw what was happening with COVID, we did preorder a lot of nutrients and things for the cultivation side, which insulated us and gave us at least a couple of months … in case there really was a bigger supply problem," he said.
Agri-Kind also implemented procedures early on like temperature checks for employees and luckily no employee had contracted the virus as of Friday, Cohn said.
Cohn said he has also been keeping an eye on legislative proposals to move Pennsylvania to a recreational state. A couple of bills have been floated already and even some Republicans who would have balked at the idea last year are starting to come around on the idea as a way to repair the state's devastated economy, he said.
"Now with the need for tax dollars to repay (the Paycheck Protection Program federal loan program) and keep the economy alive, I think it's a strong possibility," said Cohn. "I also think it's going to be influenced by other states."
Neighboring New Jersey is reportedly eyeing the same measure as early as November, he noted, which could force Pennsylvania to follow suit or lose out on a potential windfall of tax revenues. Pennsylvania Auditor General Eugene DePasquale estimated in 2017 that the state could reap $200 million in annual taxes if it goes the recreational route.
"No state wants to lose tax revenue to a bordering state," said Cohn. "Especially when there's a lot of commuters, there's a lot of people here who vacation in New Jersey and vice versa, and a lot of people who work in Philadelphia and live in Cherry Hill. That border is a lot more open than Ohio and Pennsylvania, where it's just not as populated."