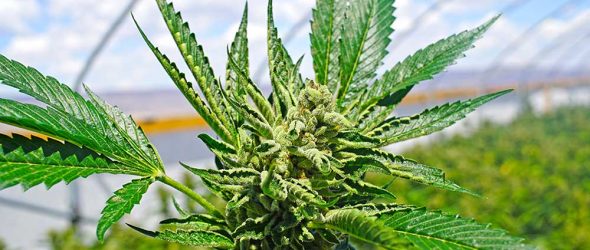 https://cannabisexaminers.com/wp-content/uploads/2020/05/stock-cannabis-11-adobe.jpg
Canadian cannabis producer Cronos Group (CRON) on Friday reported sales that missed expectations, and the company warned that the coronavirus pandemic has begun to send tremors through its supply chain. Cronos Group stock and most other marijuana stocks fell.



X




Revenue for the first quarter came in at $8.43 million, up 15% from the prior quarter and 181% from the prior year, aided by growth in the recreational cannabis market in Canada and the launch of vaping devices. But the result was below Zacks estimates for $10.8 million.
Some $2.2. million of the sales came from the U.S., a segment that includes Lord Jones, a CBD-product maker Cronos bought for $300 million last year.
Cronos logged an $8 million write-down of its weed inventory, due to fixed-price contracts that were worked out prior to an oversupply in the Canadian market that pushed prices lower.
"We anticipate further inventory write-downs in the short-term due to pricing pressures in the marketplace and the impact of the Company's operational repurposing of the Peace Naturals Campus," Cronos said in a statement.
The pot producer said its reported operating loss was $45.1 million. Cronos attributed the loss to higher staff head count, research and development costs and $4.4 million related to the restatement of financial results for last year.
Cronos earned 20 cents per share during the quarter. Zacks forecast a seven-cent per-share loss.
'Little' Excitement?
"Another quarter from Cronos that leaves little for shareholders to get excited about with regards to next 12 month delivery in our view," Jefferies analyst Owen Bennett said in a research note. "It remains a waiting game to see whether its asset light, synthetic cannabinoid, IP model will ever be proven."
Cronos wants to eventually do less direct growing, and focus more on developing individual cannabinoids, or the compounds like THC or CBD that are found in cannabis plants. The company said that in the first quarter, it was able to ferment  CBGA, one such compound, at a research and development facility.
Cronos said it made its first shipment of dry bud to Israel, where the company is trying to enter the medical cannabis market. It also said a joint venture in Colombia, Natuera, finished construction on an extraction facility.
Cronos also makes recreational weed brands like Cove and Spinach, as well as Peace Naturals vaping devices.
---
Join IBD experts as they analyze actionable stocks in the coronavirus stock market rally on IBD Live.
---
Marijuana Stocks, Cronos Group Stock
Cronos Group stock fell 3% to 5.42 in the stock market today. Shares have a 65 Composite Rating and a 76 EPS Rating. Cronos Group stock is trending below its 50-day line.
Among other marijuana stocks, Canopy Growth (CGC) dipped 0.8%. Beverage giant Constellation Brands recently raised its stake in Canopy.
Aurora Cannabis (ACB) dipped 0.65%. Tilray (TLRY), which reports earnings on Monday, added 2.2%. Aphria (APHA) gave up 6.8%.
As the coronavirus outbreak reached North America, sales jumped at Canadian weed shops, amid a broader swell of panic purchasing.
Against that backdrop, analysts have tried to gauge whether that demand can last, even as some peg cannabis as a defensive play during the pandemic. But with jobless figures surging due to the pandemic, analysts have also wondered how much of the cannabis industry, which was already facing a cash crunch, can survive.
"Cannabis demand may prove defensive, but we do not believe the current array of public cannabis companies offer defensible growth," Stifel analyst Andrew Carter said in a research note on Wednesday.
Coronavirus Impact
Cronos Group, in its earnings release, noted that the pandemic had hindered customers' access to its products.
Cronos said that some of the Canadian provinces that buy cannabis — and then deliver it to stores — had slimmed down their on-site staff, leading to less delivery availability, and less frequency, and lower purchase-order size. Some dispensaries still have curbside pickup and reduced store operating hours or have closed entirely.
The pandemic has also shuttered many stores, affecting sales at Lord Jones products in the U.S. However, online sales were still available in some cases. Lord Jones products are available at retail locations like Sephora.
Cronos said it reduced the number of people physically working at its production facilities in the U.S., Canada and Israel. It said it had enough inventory to meet demand for now.
Cronos also has a bigger cash pile to work with, thanks to a big investment from tobacco giant Altria (MO).
YOU MAY ALSO LIKE:
Should You Buy Marijuana Stocks In A Pandemic? Here's What The Charts Show
Marijuana Stocks To Buy And Watch
Is Canopy Growth Stock A Buy As Leadership Scales Back In The Coronavirus Shutdown?
Coronavirus Jobs Report: 20.5 Million Jobs Lost, 14.7% Unemployment Rate; Dow Jones Rises
Current Top Stocks In IBD Leaderboard, Up 77% From 2017 to 2019 Vs. Up 44% For The S&P 500