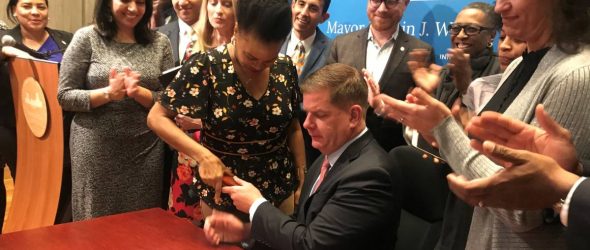 https://cannabisexaminers.com/wp-content/uploads/2020/03/walsh-signs-ordinance.jpg
Boston Mayor Marty Walsh has named members of a new board that will oversee the city's decisions about licensing marijuana businesses.
The announcement Wednesday comes nearly four months after Walsh signed an ordinance that called for creating the board. It will issue operating licenses, sanction owners for any violations and recommend terms for host community agreements.
"The purpose of Boston's Cannabis Board is to make sure our actions continue to match our values: supporting equity, diversity and local ownership in this new industry," Walsh said in a written statement. "I'm proud to appoint these exceptional members to the Cannabis Board as we work to ensure every resident has access to the same opportunities in our growing city."
Walsh tapped Kathleen Joyce, who will remain chair of the city's License Board, to lead the new board also. She previously served as senior counsel at the Boston Planning and Development Agency.
Other members include Monica Valdes Lupi, former executive director of the Boston Public Health Commission; Lisa Holmes, a former Boston Police superintendent; Darlene Lombos, executive secretary-treasurer of the Greater Boston Labor Council; and John Smith, director of programs at TSNE MissionWorks, a management, consulting and training nonprofit based in the city's Leather District.
Members will serve two-year terms and receive $600 "for every day or part thereof of actual service," under the executive order Wash signed Wednesday. The order mandates cooperation between the board, the Office of Emerging Industries and the Office of Consumer Affairs and Licensing.
Applicants to open marijuana stores had previously criticized the Walsh administration for an opaque process for securing a host community agreement (HCA) — a first step that allows applicants to request zoning permits and then petition the Cannabis Control Commission for a state license.
A single employee of the Office of Emerging Industries had overseen the negotiation of host community agreements.
City Council President Kim Janey, who sponsored the legislation to create the board, praised the appointments.
"This board is so important to our city as it will bring a new, transparent and public-facing process, focused on equity, for creating host community agreements in Boston," said Janey in a written statement.
The new Cannabis Board will inherit 14 previously-approved agreements. Pure Oasis, which secured one of those, is in the final phase of preparing to open on Blue Hill Avenue near the Dorchester-Roxbury line.