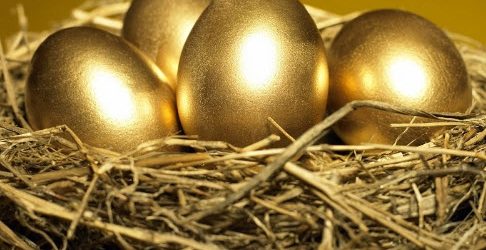 https://cannabisexaminers.com/wp-content/uploads/2020/07/gooseEgg.jpg
Below is an argument for why MCTC Holdings Inc (OTCMKTS:MCTC), now doing business as Cannabis Global, Inc. (OTCMKTS:MCTC), may be the most important cannabis-related stock you never heard of.
The company just announced the successful application of production techniques developed for Tetrahydrocannabivarin (THC-V) to another rare cannabinoid, Cannabinol (CBN), which the Company believes may have enormous unexplored upside growth potential as a new cannabinoid-based products market.
According to the release, "This breakthrough discovery results from continued work on the Company's 'Project Varin' initiative, a core research and development project the Company launched in January 2020 to manufacture new nanotechnologies, infusions and consumer products based on rare cannabinoids. To date, the project has yielded several important product development and production methodology breakthroughs that the Company believes will enable more effective commercialization of products based on rare cannabinoids."
It should be clear why this is huge news – and that it was missed by the market thus far: CBD is a massive market now worth billions of dollars. THC became a massive billion-dollar market before that.
The Math
Cannabinoids, if they can be successfully produced at commercial scale have a rather remarkable track record of success in the marketplace.
The next one up in that series of success may very well be Cannabinol (CBN), and MCTC is now perhaps heading toward being the only company on the planet able to produce it at a scale and purity level capable of driving the birth of the billion-dollar CBN market.
Even more importantly, the process responsible for this is on the way toward evolving from a trade secret to being licensable intellectual property owned by MCTC.
Even more importantly than that: this is the second exotic cannabinoid that this method has succeeded with. The first was THCV. The next may be any of a number of other contestants on the new hit show, "Who Wants to be the Next Billion-Dollar Cannabinoid!"
"Our research team already proved our capability to produce high-quality polymeric nanoparticles and fibers of THC-V, but we also consider it important to be able to leverage our production techniques relative to other rare cannabinoids," commented Arman Tabatabaei, CEO of Cannabis Global. "We are excited to report today the success of this effort, which comes in the form of the production of highly loaded nanofibers of CBN via our methods developed for THC-V. We believe this development allows Cannabis Global to more quickly expand our product portfolio as we continue to stake a claim in the rare cannabinoid sector, potentially unleashing underexploited growth potential in markets like CBN, with little or no real competition."
The Project that Could Change the Cannabinoid Game
While experts have been looking for development on commercializing more cannabinoids for years, no one has been able to master a cost-effective commercial volume production process for the more exotic major cannabinoids: Tetrahydrocannabinolic Acid (THCA), Cannabidiolic Acid (CBDA), Cannabinol (CBN), Cannabigerol (CBG), Cannabichromene (CBC),  Tetrahydrocannabivarin (THCV), and Cannabidivarin (CBDV).
With its new process, MCTC may be on the verge of finally solving that puzzle.
These advances are the result of an exploratory R&D effort that the company calls: Project Varin, as noted above. So far, it has yielded highly loaded nanofibers of both THCV and CBN, which appears to deliver proof that the advance is applicable to cannabinoids in general, which may mean it can eventually be applied to the other interesting compounds named above – not just THCV and CBN.
As described in the release, the MCTC research team is nearing the completion of a subprogram of Project Varin designed to finalize high volume production methods. As part of this effort, manufactured CBN was successfully utilized to produce highly loaded nanofibers. As an additional planned phase, MCTC will now turn its attention to other rare cannabinoids.
Mr. Tabatabaei continued, "Project Varin has exceeded our most optimistic expectations. Our next phase of CBN research will involve the design of new and innovative products based on rare cannabinoid CBN. We plan to continue Project Varin throughout the second half of this year, while simultaneously launching our nature-based hemp infused products under the Hemp You Can Feel™ brand name. These will include our coffee products, alcohol replacement cocktail mixers, Hemp & Booch kombucha line and several other unique offerings, all based on the finest ingredients available."
The take-away is this: the IP derived from this research, if it holds up as a productive method to commercialize the rest of the major but less common cannabinoids, then MCTC will have more than a few golden eggs – it will have the Cannabinoid Goose.
This article is part of JournalTranscript.com Networks. Read the JournalTranscript.com Networks Disclaimer.