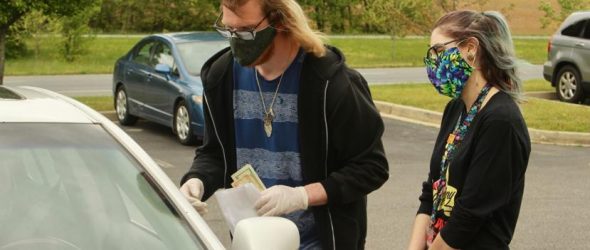 https://cannabisexaminers.com/wp-content/uploads/2020/04/5ea8407edf95a.image.jpg
With more than 95,000 medical cannabis patients in the state, Maryland has deemed dispensaries as essential businesses during the COVID-19 pandemic and temporarily loosened some restrictions regarding their operations. In Southern Maryland, several facilities are working toward ensuring accessibility to those they serve.
On March 16, several days after Gov. Larry Hogan (R) announced a series of major actions to protect public health and limit the spread of COVID-19, the Maryland Medical Cannabis Commission issued a temporary order changing certain rules related to dispensary operations. Deli-style sales and "sniff jars" are prohibited, but on-site deliveries are now allowed in dispensary parking lots, according to the order.
In addition, requirements for a patient's signature at pickup have been suspended, and orders can be processed online with confirmation of identity. The commission also set guidelines for social distancing among patients and employees and calls for frequent sanitization of the stores.
GreenWave Medical Cannabis Dispensary in Solomons has been taking advantage of some of the new rules, allowing them to continue serving the community.
Lauren Simpson, director of GreenWave, said they tried out curbside service to limit the number of people coming into the shop but it proved to be "inefficient and cumbersome." To remedy that issue, staff set up a drive-thru service, "which the state approved very quickly."
The building the dispensary is currently occupying was once home to a bank, so a drive-thru window was already part of the building's structure.
Simpson said, "with a little work," the existing window was able to be used for the facility's distribution while the community continues to practice social distancing.
She noticed people were "definitely panic-buying" in the beginning of the crisis when nobody was 100% certain dispensaries would be deemed essential. At first, the shop experienced about a 30% increase in sales, she said, but now business has become more steady.
While marijuana "flower supply is good" for now, there have been some issues with keeping concentrates in stock since "big suppliers are having staffing issues," Simpson claimed.
She said within the past month, there has been a significant uptick in new patients, as well, while people are stuck at home with nothing else to do and many are dealing with additional anxiety or stress related to COVID-19. According to Simpson, the medical cannabis commission has allowed virtual health assessments to take place for new patients. The dispensary's hours altered slightly to close an hour earlier than usual, although this Friday, May 1, the store plans to resume its normal hours.
"The MMCC has shown great leadership," Simpson said. "Maryland was very proactive" with ensuring accessibility to patients during the pandemic and have even began fast-tracking caregiver applications.
"We're lucky to have a governor who acknowledged the importance of medical cannabis to state constituents," she said.
Seth Erlin is the owner of Chesapeake Apothecary Medical Cannabis Dispensary in White Plains. He told The Enterprise last Thursday, "We are happy we are considered essential," as he believes they are "essential in the hearts and minds" of many people.
The shop owner said he saw an increase in sales since the beginning of the COVID-19 pandemic and mentioned there is some concern with being able to maintain their supply.
"There's usually a shortage in the fall already … with the finite licenses in the supply chain," he said. "We're doing our best to keep up and manage the craziness of everything."
The dispensary has been operating mostly through curbside pickup the past two weeks, and since they are situated in a stand-alone building versus being located on a busy strip mall, there are "no hindrances," Erlin said.
While waiting for "normalcy to come back," he said Chesapeake Apothecary staff have been making wellness calls to check up on patients and posting updates online.
With a patient pool of over 5,000, the dispensary's priority is providing accessibility to patients in their time of need. They serve people with "every diagnosable illness and ailment under the sun," Erlin said, including post traumatic stress disorder, fibromyalgia, anxiety, depression, cancer, Crohn's disease, colitis, tremors, Alzheimer's disease, multiple sclerosis and more.
Through the versatility and adaptability of the staff, the facility has been able to maintain operations and "manage anxieties," he said.
Located off Three Notch Road in Mechanicsville, Southern Maryland Relief, owned by Charlie Mattingly, has changed some of its operating hours and procedures.
On Monday, Mattingly told The Enterprise the dispensary has been offering curb side pickup and has been taking online orders during the pandemic, although, 50% of their customers are patients over the age of 60, and some are not quite internet savvy and would rather "come in and talk."
Patients are still allowed in the store on a limited basis, he said, with only six people allowed in the waiting room at one time and three in the showroom where sales take place, which usually can serve up to seven people at once. Mattingly said a security guard stands by the entrance of the store and hands every person walking in a pair of gloves, which are disposed of at the end of the visit. Masks are also provided to patients who don't have one.
"We sanitize every 30 minutes … we're doing more than what was asked. It's better to be safe than sorry," he said.
Mattingly, too, has a concern with supply and demand, he said, as business has increased about 40% since the pandemic began. "I wouldn't say people are panic buying but they are stocking up on certain varieties" that work for their treatment plan.
His concern lies in the possibility of not being able to provide a patient with the specific strain or product they're used to, which would mean they would have to start over as far as finding out what works best for them.
"Medical cannabis is one of the greatest things … it changes people's lives," he said. It treats an endless number of conditions and "really helps lift depression," especially now that people are going "stir crazy."
He said some people have begun reaching out to him and asking questions about how medical cannabis might benefit them. "At the end of the day, I think when the smoke clears, this is helping people understand what is available," the owner said, and is helping rid the community of the negative stigma that comes along with the use of medical cannabis.
Last week, it was reported 33 states allow for some form of sale and consumption of marijuana and of those, more than 20 states have designated the cannabis industry as essential during the coronavirus outbreak.
Twitter: @MadisonEntNews