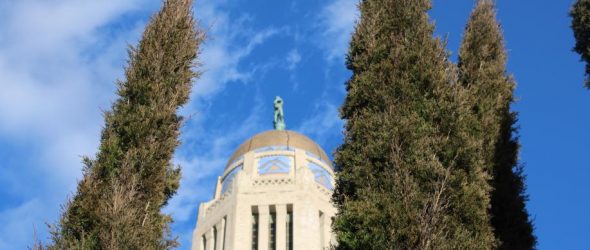 https://cannabisexaminers.com/wp-content/uploads/2020/03/IMG_2284.JPG
The issue of medical marijuana spilled over into legislative debate on a nominee for the state Board of Health Thursday. And senators advanced a proposal to make sure teachers who are assaulted at school don't lose money if they have to take time off.
---
Usually, appointments by the governor to state boards and commissions are approved by the Legislature with little or no discussion. But that wasn't the case Thursday. At issue was Gov. Pete Ricketts' appointment of former state Sen. John Kuehn, a veterinarian, to the spot reserved for that profession on the state Board of Health.
The board oversees licensing and discipline of health professionals. Kuehn also co-chairs Smart Approaches to Marijuana, a group opposing an initiative to legalizing medical marijuana in Nebraska.
Sen. Adam Morfeld, who co-chairs Nebraskans for Medical Marijuana, sponsor of the initiative, said Kuehn could have a conflict of interest on the Board of Health.
"I'm concerned about his ability to not be biased in that regard, because that's going to be a huge issue that will need to be addressed in the state in 2021. And quite frankly, 2020, because the minute that those results are certified in November by the Secretary of State, it becomes a constitutional right. And so there's going to be serious issues that have to come before the board of health and other folks and I just want to make sure that somebody who's not leading the opposition campaign is in that position," Morfeld said.
Sen. Anna Wishart, Morfeld's co-chair on the medical marijuana group, said the initiative is doing well at collecting petition signatures to put legalization before voters on the November ballot. And Wishart predicted the effort will succeed.
"We feel confident that we will get the signatures needed in July to get this initiative on the ballot, and we have done polling that shows across the state, over 70% of Nebraskans — actually over 80% of Nebraskans –support this issue across demographics, across age ranges, across rural and urban constituencies. So we are really excited," Wishart said.
And Sen. Ernie Chambers urged his colleagues not to "rubberstamp" Ricketts appointment of Kuehn, a political ally of the governor, who also opposes the medical marijuana initiative.
"When are we going to get some steel in our spine? There are plenty of people without the appearance of impropriety or conflict available appointment to that board," Chambers said.
Sen. Lou Ann Linehan defended Kuehn's appointment.
"This is ridiculous, that we're saying we're not going to confirm him because he disagrees with some of us on an issue," Linehan said.
Linehan asked Sen. Sara Howard about her experience working with Kuehn. Howard, whose sister died of a prescription drug overdose, talked about putting together legislation to require all health professionals who dispensed narcotics to register those prescriptions. Howard said veterinarians did not want to be covered by the requirement. But Kuehn worked hard to make sure they were, Howard told Linehan.
"Sen. Keuhn really went to the mattresses to help make sure that every narcotic that's dispensed (was included), including those from veterinarians, and they were a very vocal opponent of being included in this legislation, and he really was a great help and made a big difference there," Howard said.
"So he was willing to take on his own industry, which he was a part of, to do what was right?" Linehan asked.
"Absolutely," Howard said.
"Do we see a lot of that  — people willing to take on their own industry to do the greater good?" Linehan continued.
"No, not often," Howard replied.
And Sen. Mike Hilgers enthusiastically supported Kuehn.
"People hold opinions —  sometimes they hold them contrary to our views. But the question is, will they discharge the duties they are required to discharge? Will they follow the rules? There is no doubt that he (Kuehn) will. He will be an outstanding member of the board," Hilgers said.
Kuehn was confirmed on a vote of 32-3, with Morfeld, Chambers, and Sen. Megan Hunt opposed. Nine other senators, including Wishart, abstained, which has the same effect as a "no" vote and so is sometimes referred to as a "soft no."
Thursday afternoon, senators considered a proposal to provide financial help to teachers who are assaulted at school. Currently, they're not eligible for workers' compensation until after 7 days off the job. Until then, they have to use sick leave or personal leave to be paid, which could reduce what they get when they eventually leave their jobs. Hilgers said that poses a question.
"Is this something that we think is right? Is it right for a teacher to have to use their own personal or sick leave for an assault that happened on premises at their school within the course of employment? I think the answer to that is 'no,'" he said.
Sen. Mike Groene, chair of the Education Committee, listed some of the student assault on teachers summarized in a Workers' Compensation report.
"'Student was in crisis and bit right hand. Student bit right bicep. Student bit thigh and scratched hand. Student bit left index finger. Student bit right breast,'" Groene recited.
Groene said 300 such assaults were reported in Nebraska last year. But he said that's an understatement, because it doesn't count assaults after which a teacher stayed out for less than seven days.
"We have an epidemic. We have a problem in our schools. This is just one thing we can do to help those teachers who are so severely assaulted, that they have to take time off of work from the injuries," he said.
The proposal advanced on a vote of 45-0. But Groene said more needs to be done, including passing a bill he's sponsored to explicitly allow teachers to physically intervene with students.
Opponents fear that permission would be used primarily against minority and developmentally disabled students, and have filed a motion to kill the bill.