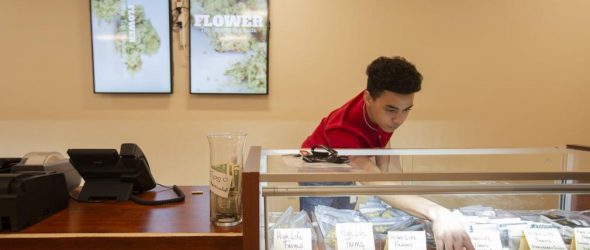 https://cannabisexaminers.com/wp-content/uploads/2020/01/5e2b5f6b03e2c.image.jpg
TRAVERSE CITY — Highly Cannaco had its "soft opening" Thursday, and medical marijuana patients who come through its doors can expect to find whatever they need, owner Eric Ryant said.
That includes dried cannabis flowers, concentrates, edibles and cartridges for e-cigarettes, plus whatever accessories a customer may need, Ryant said.
Theirs is one of two medical marijuana provisioning centers with its doors open in Traverse City as the industry buds in the region. The second is The Cured Leaf, where an employee who answered the phone said it's been open since Jan. 21.
Businesses that are opening their doors did so after navigating the state's licensing process, plus whatever rules and procedures local governments imposed. Now, they're finding the product they want to sell to be in high demand.
"We are experiencing a little difficulty in getting flower, we've gotten some in but we're actively looking for more," Ryant said.
That pinch has put a squeeze on prices, Interlochen Alternative Health owner Stephen Ezell said. He was paying $2,400 per pound prior to being shut down in 2017, the same time then-Grand Traverse County Prosecutor Robert Cooney shut down other dispensaries operating in the area.
Now, Ezell is paying $4,000 per pound after making numerous phone calls to find a supplier, he said.
He blames the fact that sellers are getting their licenses and opening the same time as growers, he said. There's a lag time between when a marijuana crop is planted and sold, so right now retailers like him are hurting.
Mike Rudolph owns Two Buds, the first grower to open in Traverse City. He's licensed to grow up to 500 plants and wants a license to grow 1,500, he said. His first crop is still a couple of months from being ready.
So too is Pincanna's much larger crop, company founding partner Rob Nusbaum said. The company plans to open a dispensary in Kalkaska in February, and its 135,000-square-foot facility in Pinconning will come online shortly after.
"We actually started moving plants into our hoophouse last week, so the first grow is actually underway in the hoophouse," he said.
Nusbaum acknowledged a wide gap in supply and demand, and said it's not to be unexpected as the industry goes through "growing pains."
"Once these, especially the larger producers like ourselves start coming online, that gap will start to shrink," he said. "I believe it could take 18 to 24 months before it's really where it should be."
Ryant and Ezell separately echoed this, saying they expect the market to smooth out in the coming months.
Other businesses in Michigan are coming online, including a handful in northern Michigan, state records show. A map of issued licenses shows RL Solutions is licensed to grow up to 1,500 plants in Kalkaska and All Green Transport is set to move medical marijuana. The map's data is apparently spotty — neither Ezell's nor Ryant's businesses show up, yet records show the state issued licenses to both.
Redbud Roots in Acme opened on Jan. 17, according to an employee who answered the phone there.
Centennial Logistics also has its license from Traverse City to operate as a safety compliance facility, city Clerk Benjamin Marentette said.
Ezell said he put his name in for one of 13 dispensary licenses in Traverse City. He's proud to own an independent, local business and was disgusted with the lottery results.
Ryant, who owns dispensaries in Colorado, Ohio and Maine, didn't want to say much about Traverse City's license lottery, aside from that he's glad it went his way.
The city still is working on its rules for recreational marijuana, which state voters legalized in November 2018. City commissioner Tim Werner is one of three on an ad hoc committee hammering out the rules and said they're down to some of the stickier issues, like how to set up a merit-based application system. He expects the rules to be done by spring.
Until then, the city has opted out of allowing recreational businesses, as have many other local governments, as previously reported.
Ryant and Ezell both said they want to get in on recreational sales once it's allowed locally.
Ezell he expects medical patients to let their certifications lapse once they can buy without them, and Ryant said the city probably can't support 13 dispensaries if they're shut out of recreational sales.
"I think there's a lot of slices in the pie, as they say, for just medical," Ryant said.