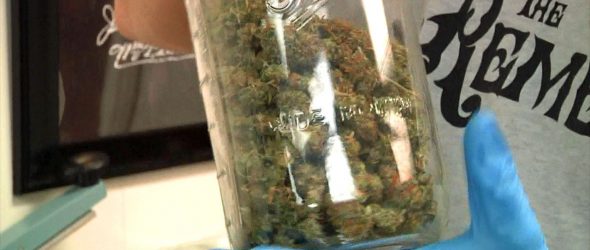 https://cannabisexaminers.com/wp-content/uploads/2020/01/19093162_G.jpg
DURANT, Okla. — Nearly a year-and-a-half of legal medical marijuana sales is bringing record tax dollars to the State of Oklahoma.
"I am shocked," said Michelle McCullough, owner of Sweet Leaf Farmacy in Durant. "I kind of thought that it would take a while for it to take off in Oklahoma… kind of in the Bible Belt and being so close to Texas."
Oklahoma's medical marijuana industry sent $7.2 million to the state's coffers in December, a new record.
"It's a lot of tax revenue that this state badly, badly needs," McCullough said.
2019 was the first full calendar year with legal medical marijuana in the Sooner State.
"It was a good year, I think, for everybody that got involved," said Dustin Belvin, owner of The Remedy in Durant. "The patient numbers just keep growing and growing, so more patients, more business… everything just keeps getting bigger and bigger."
If the state averages $7 million in medical marijuana tax revenue per month in 2020, Oklahoma could be on pace for $84 million this year.
"Durant is a good hub for a lot of small areas, small towns," McCullough said.  "We do get a lot of traffic here, a lot more than I expected, and I think everything is going good."
The industry in Texoma has blossomed to include more than 20 dispensaries in Durant alone.
"Especially in Durant," Belvin said. "If you look it up on Google, there's about 18,000 people… not all those people are patients. So an even smaller percentage of that number is patients. So will it be sustainable for all the shops? No; and that's not just Durant, that's everywhere.
The tax collection in 2019 is undoubtedly a large sum, but dispensary owners believe the number will be surpassed in 2020. Eleven states across the nation have legalized recreational adult marijuana, and Texoma dispensers believe that's going to be here before we know it.
"I don't think there is anything bad about marijuana," McCullough said. "I think all the other states that have legal have proven that, and so it's only brought goodness to the states, the towns, the counties, and I think that it should be our choice whether we use it or not, and not the world's."
Petitioners are working to get State Question 807 on the ballot in November. It would legalize and regulate recreational marijuana for adults in Oklahoma.