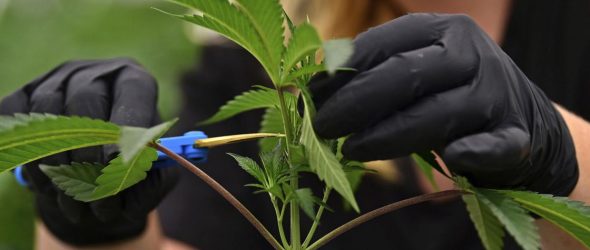 https://cannabisexaminers.com/wp-content/uploads/2020/09/5f5fae47acb0f.image.jpg
Again, none of this is by chance.
Go back to March 3. That's the day that a Boonville, Missouri, company that won a dispensary license, Natural Healthcare of Missouri, surrendered its lucrative license with no explanation. The company was created, according to Secretary of State records, by Rolla attorney David Steelman, a longtime Republican insider who is a member of the University of Missouri Board of Curators.
The next day, March 4, Ross' House committee held a hearing investigating the marijuana licensing process. In the audience was the head of the state's Office of Administration, Sarah Steelman, whose agency was involved in the bidding process that awarded a contract to the blind scorer that is at the center of many of the questions about the licensing process. The Steelmans are married.
Perhaps all of the insider connections in the burgeoning medical marijuana industry in Missouri are happy little coincidences, just like the fact that some of those insiders knew to code their so-called "blind" applications with names that were easily identifiable, while some of those companies on the outside were unaware of such a possibility.
That's why the House investigation, and the movement of various lawsuits through the legal system, are so important. The medical marijuana industry, and, likely, the recreational industry to follow, is here to stay in Missouri. Money that was supposed to go to veterans' services is now being dried up in expensive legal actions defending a process that from the outside looks indefensible.