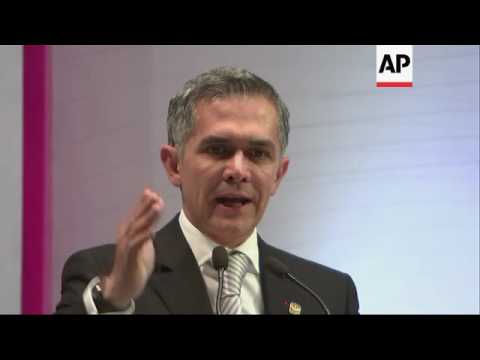 https://cannabisexaminers.com/wp-content/uploads/2018/12/2780/mexico-mayor-proposes-medicinal-use-of-cannabis.jpg
(16 Dec 2015) Mexico City's mayor is introducing a national initiative in congress to legalise cannabis-based medical treatments in the entire country.
Mayor Miguel Angel Mancera says the initiative would not legalise production or distribution of medical marijuana in Mexico, rather give Mexicans access to medicinal products manufactured outside the country.
He said Wednesday the initiative is a matter of public health and aimed to allow patients access to proven remedies that are legal in other countries for various illnesses and ailments.
Mancera said if morphine-based medicines are legal, cannabis-based medicines should be as well.
His proposal will require modifying two articles in the public health law, he said at a forum announcing the initiative.
Eight-year-old Grace Elizalde of Monterrey, who suffers from a severe form of epilepsy, became this year the first Mexican to legally use marijuana oil after a federal judge gave her permission.
President Enrique Pena Nieto has repeatedly said he opposes legalisation of marijuana as do a majority of Mexicans surveyed in recent polls.
You can license this story through AP Archive: http://www.aparchive.com/metadata/youtube/046b79d2ed6d017955eb9945ddfb9c0a
Find out more about AP Archive: http://www.aparchive.com/HowWeWork