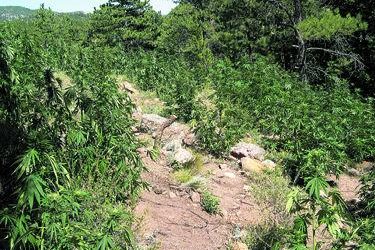 https://cannabisexaminers.com/wp-content/uploads/2020/09/562336920ef5d.image.jpg
The recent seizure of hundreds of pounds of marijuana plants came as the result of a lengthy investigation — an investigation enhanced by tools the Montrose County Sheriff's Office had purchased through a state-administered grant.
Montrose County commissioners on Wednesday approved a fresh application for funding through the Colorado Department of Local Affairs Gray and Black Market Marijuana Enforcement grant program.
Money for the grant program comes from the sales and excise taxes charged on legal marijuana sales in the state; Montrose County has received three prior awards totaling about $240,000.
"We use the legal sales to fund the (prosecution of illegal) sales," Deputy County Manager Jon Waschbusch said.
Because Montrose County meets the state's definition of rural, its application will be among those that have priority for the black and gray marijuana enforcement grant.
"We've seen the money put to its intended use," Waschbusch said.
Although he was not certain how much the county might receive from a successful application this time around, it was important to opt in to the grant program by applying, he said.
Montrose County Undersheriff George Jackson said money from previous allotments had helped in the Aug. 29 marijuana bust in the county, which took place in tandem with a bust in neighboring San Miguel County.
In Montrose County, the Colorado Bureau of Investigation arrested Christopher Fehrenbacher on suspicion of felony marijuana cultivation and other offenses; formal charges are due Sept. 23.
Authorities reportedly found dozens of mature marijuana plants on Fehrenbacher's Ragsdale Road property; the plants weighed an estimated 1,300 pounds, according to Sheriff Gene Lillard.
Fehrenbacher was later arrested at his home on County Road 42Z.
On Wrights Mesa in San Miguel County, the CBI seized about 500 pounds of large marijuana plants, as well as a suspected butane hash oil lab.
"They were all connected," Jackson told commissioners Wednesday, later saying that some of what was seized could have been legal, had the paperwork been done properly.
Jackson said that because a suspect had "homicide" listed on his criminal history, the MCSO moved in with a SWAT team.
Fehrenbacher's criminal history in the state of Colorado, as provided by the CBI, does not list that offense. In the arrest affidavit, a CBI agent stated Fehrenbacher has a "lengthy criminal history for theft, forgery, marijuana possession, assault and homicide."
The investigation leading to Fehrenbacher's arrest in Montrose County began more than a year ago, after the MCSO and San Miguel County Sheriff's Office began receiving tips about marijuana grows. The investigation entailed aerial surveillance and tracking devices that were installed after investigators obtained court orders.
"A lot of that equipment we used, from aerial surveillance and tactical team gear, came from this black and gray marijuana enforcement grant," Jackson told commissioners.
That equipment also helped assure safety for everyone involved.
"Once again, enforcement action was taken and no one was hurt," Jackson said. "Anytime you are taking away someone's livelihood, whether legal or not, a lot of times you get a violent response."
Commissioners Roger Rash, Sue Hansen and Keith Caddy applauded the MCSO and SMCSO's service, then unanimously approved the application for another round of the black and gray marijuana enforcement money.
"We are so blessed to have the people we have for our law enforcement. Right now, law enforcement is taking a beating and it's so unwarranted," Rash said.
" … You guys are my heroes."
Katharhynn Heidelberg is the Montrose Daily Press assistant editor and senior writer. Follow her on Twitter, @kathMDP.
{p class="p1"}{span class="s1"}Katharhynn Heidelberg is the Montrose Daily Press assistant editor and senior writer. Follow her on Twitter, @kathMDP.{/span}