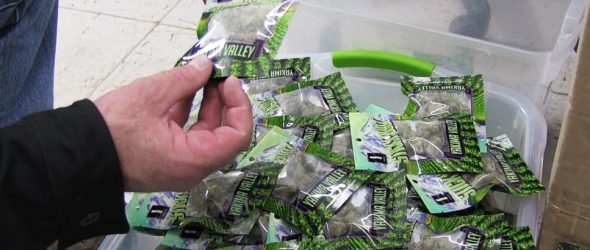 https://cannabisexaminers.com/wp-content/uploads/2020/03/5e6699b34ff32.image.jpg
There are only three cannabis businesses operating in unincorporated Yakima County, where such operations are banned.
Last year there were more than 25 state-licensed cannabis businesses operating in unincorporated areas, despite a ban that was enacted in 2014.
Sticky Budz near Zillah, Double Dutch outside Sunnyside and Greenzone near Selah are the only ones that remain, said Deputy Prosecutor Don Anderson, who heads the county's civil division.
The others have complied with cease-and-desist letters the county fired off to cannabis businesses more than a year ago, giving them until March 1, 2019, to close or be shut down by county authorities, he said.
Double Dutch and Greenzone have agreed to shut down on July 31; Stucky Budz is awaiting a ruling in its appeal of the county-ordered shutdown, Anderson said.
Yakima County commissioners entered agreements with Double Dutch and Greenzone allowing them to stay in business a little longer to avoid the further litigation, he said.
"I think what the commissioners were looking at was the expense of continuing to litigate the cases," Anderson said. "So it made sense to save the money of an appeal. The expense outweighed the additional few months that would be given to operate."
There's no telling when a decision will be rendered in Sticky Budz's appeal.
There was a December hearing in the state Court of Appeals in Spokane, but a decision has yet to be rendered.
"And you just sit and wait — that's all you can do," Anderson said.
Meanwhile, Sticky Budz remains in operation. The business filed the appeal after a Kittitas County judge ruled that Yakima County was within its authority to enact such a ban and enforce it.
History
Marijuana has been controversial in Yakima County since voters statewide approved the legalization of its recreational use in 2012.
After the state established a legal market and devised a regulation plan, county commissioners in 2014 enacted the ban, saying it was the will of the people. A majority of Yakima County voters rejected Initiative 502, which legalized recreational marijuana, despite the statewide approval.
Several small operations still cropped up, but only provided cannabis for medical use. There was no interference by the county. At that time, the medical marijuana market was regulated separately from the broader recreational market.
But in July 2016, controversy sparked when the state placed regulation of the medical market into the recreational market. Shops that said they were solely providing a medical supply found themselves in the recreational market and in conflict with the ban.
Many of those businesses — mostly growers and processors — united under a growers association in an attempt to fight the ban.
Voters again upheld the county's prohibition — this time by more than 60% — in a 2017 advisory vote. Pot businesses and supporters complained the vote was held on an off year when turnout was low and that the ballot language was confusing.
In a 2017 reader poll conducted by the Yakima Herald-Republic, 431 people said the ballot language was confusing and resulted in them voting the wrong way, while 125 people said they understood it.
Even so, commissioners were poised to enforce the ban, and put an additional $200,000 into the county's code enforcement budget to target pot businesses alone.
A Gleed-area retail shop was the first to be shut down.