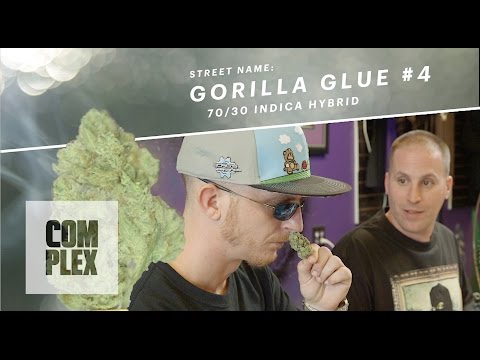 https://cannabisexaminers.com/wp-content/uploads/2019/02/4038/motor-city-high-8220gorilla-glue-48221-marijuana-strain-ep-5-on-complex.jpg
Motor City High – After pushing the limits of loudness on last week's very special Girl Scout Cookies episode, the crew over at Detroit's Over the Moon are tasked with battling the sticky icky on the new episode of Motor City High. Known as "Gorilla Glue #4," this potential product hits an interesting high note as a 70/30 indica hybrid and certainly catches Damien DiStefano's attention immediately.
Though sadly one "skunk's ass" reference short, this week's episode once again calms down the hype surrounding a particular strain by putting it under the same thorough inspection process as previous stars of the show. Will this very fine Gorilla Glue parlay that stickiness into a position at the 12 percent threshold table? Will it qualify for a far more braggable position in the highly coveted 20 percent club?
Stop speculating and just let the science do the talking.
Subscribe to Complex for More: http://goo.gl/PJeLOl
Check out more of Complex here:
http://www.complex.com
https://twitter.com/ComplexMag
https://www.facebook.com/complex
http://instagram.com/complexmag
https://plus.google.com/+complex/
COMPLEX is a community of creators and curators, armed with the Internet, committed to surfacing and sharing the voices and conversations that define our new America. Our videos exemplify convergence culture, exploring topics that include music, sneakers, style, sports and pop culture through original shows and Complex News segments. Featuring your favorite celebrities, authoritative commentary, and a unique voice, our videos make culture pop.