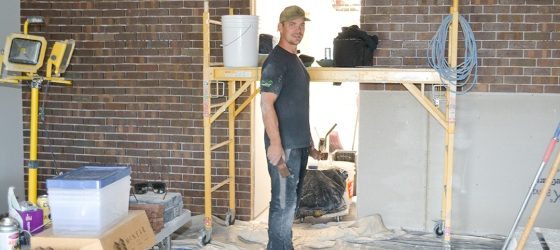 https://cannabisexaminers.com/wp-content/uploads/2020/09/shane-valentine.jpg
Shane and Ashley Valentine are the owners of Moonlit Cannabis, a new cannabis retail outlet that sells recreational cannabis and its products in Carlyle. 
The application was made to the Saskatchewan Liquor and Gaming Authority [SLGA] in February and the approval was granted at the end of July. The licensing process included background and criminal record checks for each of the owners in order to be approved to operate a retail cannabis location, a process similar to what a retail liquor outlet would experience.
The store opened Saturday.
The retail outlet will be located at 105 Cornerstone Plaza, Turrif Avenue, is ideally located between the Dairy Queen and Carlyle Convenience Store, adjacent to Highways 9 and 13.
The store will have a stock consisting of products with THC and CBD; each of the active ingredients can be purchased in the product separately or in a product offering both substances. The cannabis plant that produces the active ingredients in the recreational product are indica and sativa, both of which have many different varieties, producing different levels of THC and CBD.
Hemp, which is an industrial variety of the sativa plant, is grown for its fibres and oil and is used to make clothing, plastic products paper products and many other consumer products.
The product line will include flower [bud], oil, gel caps, chocolates, drinks and edibles, mainly any product that is allowable to be sold under the SLGA provincial legislation. The inventory is available for recreational only.
The store cannot offer for sale medicinal cannabis; those products have to be purchased from a dispensary properly licensed to distribute the medicinal product. The store will offer a selection of products that will be competitively priced to what you would find at other cannabis retail outlets, and will be determined in accordance to regulatory guidelines and inventory availability.
The store will be able to choose its stock from several SLGA approved wholesalers and plans to provide all the necessary products needed to enjoy cannabis products. It will take online orders and at present will provide local delivery and take out, and also delivery by 4:20 p.m. the next day to communities in the surrounding area on text or phone in orders.
In the future the store will be set up to take online orders as well.
The store will be open to walk in customers and will be cash only till they have Interac payment set up, which should be shortly. The business will provide three or four part-time and full-time jobs to the community and will be open from 10 a.m. to 6 p.m. Monday to Friday, 10 a.m. to 10 p.m. Saturday and 10 a.m. to 5 p.m. Sundays. Legal age to purchase recreational cannabis and its products is 19 years of age and more information on allowable quantities can be found on the Government of Saskatchewan website.
© Copyright Estevan Mercury