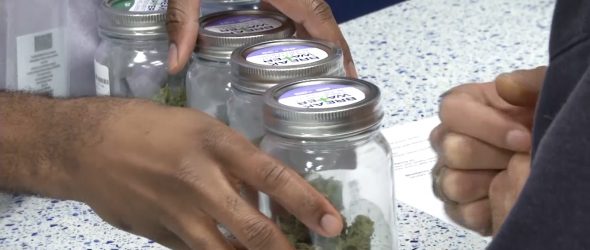 https://cannabisexaminers.com/wp-content/uploads/2020/05/flanagan-6.jpg
107874107874107874New dispensary, maybe home delivery for NJ medical marijuanaNew Jersey's tenth medical marijuana dispensary opened Friday in Elizabeth. ZenLeaf offers inside service with social distancing and some relief for patients eager for more a convenient supply and who are tired of lines. Advocates say the program needs to add more patients and more dispensaries. State officials note they're "close" to figuring out a home delivery system.2020-05-29 02:16 pmdisabled30431268499Ta1FGdzoOktrue
Mark Dingelstedt picked up a patient intake form at ZenLeaf — New Jersey's tenth and newest medical marijuana dispensary in Elizabeth. For the state's 77,000 medical marijuana patients it's been rough, he says, especially during the pandemic.
"It was a little crazy for about a month. People couldn't get their supplies, four-hour waits. Now it's calming down a little bit," Dingelstedt said. "There's a lot of patients in New Jersey, not enough dispensaries right now."
Ben Steck works at an alternative therapy clinic that advises patients about different strains and dispensary products.
"This definitely makes it easier for the patients, having a new place to go that won't currently start with lines like some of the other ones," Steck said.
"Right now the state of New Jersey is allowing 10 patients inside the facility. Everyone will be 6 feet apart. There are markers on the floor so people know where to stand. And our staff is well-prepared to handle the influx of patients," said Verano Holdings Retail Executive Vice President Anthony Dindia.
Dindia says ZenLeaf's operated by Verana Holdings with dispensaries in seven states. It's taken two years for the company to get proper permits and finally open in Elizabeth.
"It has not been as smooth as we'd like it to be, and that's on all sides. That's for the Department of Health, the inspectors are working hard, day and night, to provide a good business for the patients in New Jersey," he said.
It's been a slow process getting dispensaries up and running. Another one opens next week in Vineland, but three others licensed in 2018 still need to get permits.
The state will need many more dispensaries as Gov. Phil Murphy pushes to expand the booming medical marijuana program to as many as 200,000 patients. Meanwhile, patients want home delivery options. The administration says they're working with dispensaries.
"They need delivery vehicles. They need personnel specifically for that. On our side, we need the regulatory capacity to ensure that, number one, we're tracking those transactions," said Jeff Brown, assistant commissioner of the New Jersey Department of Health. "But I feel like we're close and I'm hoping we'll have good news on that soon."
"Home delivery's coming, there's no question about it. And I think that's going to bring with it a variety of different solutions to patient access, like we're seeing in other areas right now, particularly given the COVID crisis where going out of your home or showing up at a storefront is becoming difficult. That will help both short term and long term," said Bill Caruso, founding member of NJ United for Marijuana Reform.
The pandemic's pushed another pot issue into the background: New Jersey voters will consider legalizing recreational marijuana in November. The question got 60% approval in recent polls. The battle for votes will be loud and expensive.