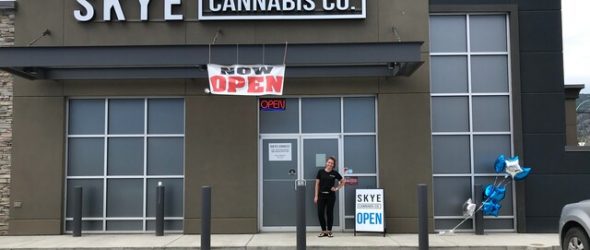 https://cannabisexaminers.com/wp-content/uploads/2020/06/photo_2020-06-22_12_20_04_pmnew_p3465466.jpg
Photo: Contributed
Skye Cannabis general manager Kaylene Trudeau outside the recently opened store.
Skye Cannabis will make you feel right at home when you enter the West Kelowna location.
The cannabis store, which opened over the weekend, plans to be the 2020s version of Cheers, the fictional Boston bar where everyone was on a first-name basis.
"The staff are all extremely knowledgeable, so if you're a new user or a connoisseur this is the place for you," Skye Cannabis general manager Kaylene Trudeau says. "We want to be everyone's home for cannabis, a place where they feel comfortable and we'll know their names."
Photo: Contributed
The layout of the store, which is located just off Highway 97 at 1192 Industrial Rd., was set up to ensure that patrons can see every product it has to offer. Some stores have only a handful of items on display, but Skye Cannabis is concerned more about making the selection process as easy as possible.
The store has 40 kinds of flower, 30 variations of vapes, edibles, oils, topicals and extracts, including hash, kief and shatter. Those over the age of 55 will also receive a 10% discount when they shop on Sundays.
"There's a lot of display space so that people can walk in and get a really good sense of what we have," Trudeau says. "So every product we have is displayed, so you can learn about the product and see what's available. A lot of the stores have things that are hidden in cupboards and that sort of thing. We wanted to make sure that people know everything that we have available."
The store has an industrial chic look to it, and its staff members have been in the cannabis industry for many years. They all hail from West Kelowna, too, giving the store a genuine hometown feel.
"They really understand the plant and the benefits from a recreational and wellness point of view," Trudeau says. "We've really tried to create a store that is a beautiful place and also has products that meet the needs for new users all the way to people who really know their stuff."
Skye Cannabis will be open seven days a week from 9 a.m. to 9 p.m. COVID-19 precautions have been implemented to ensure everyone's safety, and there is ample parking available for the clientele. Curb-side pickup is available, and there is also a large waiting area inside for anyone who wants to rest while their companion shops.
The bottom line is everyone should expect to feel at home when they visit Skye Cannabis.
"Now that it's legal we wanted to create a space for people to come in and feel comfortable with our staff to learn about how to consume or how to integrate oils into their cooking and that sort of thing," Trudeau says.
Photo: Contributed
This article is written by or on behalf of the sponsoring client and does not necessarily reflect the views of Castanet.