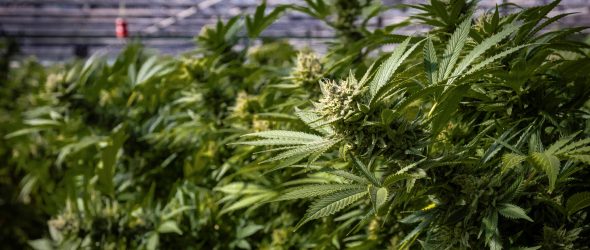 https://cannabisexaminers.com/wp-content/uploads/2020/06/Medical-Marijuana-AP_19294697384470.jpg
Share this story
Published 51 minutes ago

Above image credit: Cannabis growing facilities at Ever-Bloom Farm in Carpinteria, California, on September 14, 2019. (Rod Rolle/Sipa USA | AP Images)
No one told Lyndall Fraker that it was going to be easy.
So, as the man in charge of standing up Missouri's medical marijuana program, he's taking in stride 830 business license appeals, which are now pending before the state Administrative Hearing Commission.
"We knew it would be contentious. I was told that from the very beginning," said Fraker, director of the medical marijuana section within the Department of Health and Senior Services. 
"We feel like we have a really good team," he added, "and we have people working really hard to stand up for our program and what we have done, and the way we have done it, and we'll see where it goes."
DHSS has been at the heart of the state response to the COVID-19 pandemic. Despite that massive distraction, Fraker's section is set to hit a milestone this week. The department expects to do its first final on-site reviews, clearing the way for the first two cultivators.  
Fraker said the companies requesting the inspections are Archimedes Medical Holdings in Perryville, and BeLeaf Medical in Earth City. Officials with those companies could not be reached for comment.
The department has 18 inspectors available statewide to conduct the "commencement inspections." These final checks cover dozens of regulations, including the correct positioning of security cameras and the proper procedure for mixing plant waste with other materials for disposal.
"There's just a lot to get it right," Fraker said, "and we want to make sure we do get it right."
His comments came as he and his colleagues, including DHSS Director Dr. Randall W. Williams, face intense scrutiny from law enforcement authorities and members of a state House Special Committee on Government Oversight regarding alleged irregularities with the program.
Hurry Up and Wait
Even as DHSS moves to green light the first two cultivators, it appears that the first products will not be available for patients to purchase until late summer at the earliest. Even then, it is possible that demand could far outstrip supply. That scenario also raises the specter of sky-high prices and dispensaries running out of product within hours of opening.
All this comes after Missouri voters resoundingly approved medical marijuana in November 2018.
The constitutional amendment required DHSS to begin accepting applications from patients and businesses by July and August 2019, respectively.
There are now 50,000 state-approved medical marijuana patients. 
The department also received nearly 2,200 business applications for the approximately 340 licenses available in three main sectors: cultivators (60); dispensaries (192); and manufacturers (86).
The department decided it would best achieve impartial scoring for the licenses by hiring an outside vendor.
The state Office of Administration awarded the contract to Wise Health Solutions in August. 
Wise Health was a newly created joint venture between Oaksterdam University and Veracious Investigative & Compliance Solutions. Oaksterdam is based in California, while Veracious has its headquarters in Nevada.
From the outset, there were grumblings among industry insiders about well-connected Jefferson City lobbyists tilting the process in favor of their friends. 
But, for the most part, the state team implementing the constitutional amendment earned high marks as it raced to meet the constitutionally mandated deadlines. Fraker himself did more than 130 presentations around the state.
"If you look back," he said, "we were kind of heroes through the whole process."
It did not take long for them to become the villains after DHSS began issuing business licenses in December.
In the appeals that began pouring in, businesses that missed out on licenses questioned how the same answer could get substantially different scores on different applications. One company, for example, might get different scores on different applications for separate dispensaries for the same answers.
The department has attributed that to subjectivity applied by different "blind" scorers through Wise Health.
DHSS has thus far spent about $160,000 on the outside attorneys it has hired to help contest the appeals before the hearing commission. 
The cases are now grinding through legal back and forth of various filings, but the expectation is that the cases will be argued for before hearing commissioners in the coming months.
Some of the appeals have raised questions about potential conflicts of interest among Wise Health Solutions and some of winning applicants in the state.
Those questions, and several others, are now part of the law enforcement and legislative inquiries into the program.
There are reports that the FBI is questioning lobbyists and others involved with the program.
Whistleblowers have also raised questions about the competence and truthfulness of the medical marijuana section. There have also been suggestions that Fraker is unqualified for his position and only got the job through connections to Missouri Gov. Mike Parson.
The allegations and questions formed the basis for hearings this spring by the House Special Committee on Government Oversight. Fraker and Williams were among the officials subject to a bipartisan grilling.
Democratic state Rep. Jon Carpenter of Kansas City was one of the committee members expressing dismay, with The Kansas City Star reporting his comments that the "wide held view is that this thing has been a disaster."
The committee has requested a trove of documents from the department. Fraker said the committee has agreed to extend its deadline two weeks to June 15.
A former state lawmaker, Fraker at one point suggested that money and politics were behind the committee's inquiry.
He declined to discuss the specific allegations in his Flatland interview. 
"We have been very transparent and above board," Fraker said, "and I think (if) we keep our nose to the grindstone and do our job, it will all come out the way it is supposed to."
The department has also faced questions about its decision to limit the number of licenses to the minimum number allowed by the constitutional amendment. Officials have said that is meant to ensure quality control and to make sure an oversupply of legally grown pot does not find its way to the black market.
Yet one lawmaker, Rep. Maria Chappelle-Nadal, a Democrat from University City, said the caps effectively created a "drug cartel."
There are now efforts in the state House to do away with the caps through legislation.
In one development for the Kansas City area, DHSS in April settled an administrative appeal with Green Precision Analytics to add it to the list of licensed testing facilities. Green Precision is headquartered in the Northland.
The department said the settlement was part of an effort to provide "enhanced patient access without placing additional product in the marketplace."
Not Alone
Missouri is now one of 33 states with approved marijuana programs, including 14 that allow for adult recreational use. Kansas is one of just four states with no cannabis program, according to the National Conference of State Legislatures.
Implementation of these programs, it seems, is never without controversy.
Pennsylvania has had its own troubles with scoring, according to an investigation published in June 2019. 
PennLive reported that a state-assigned appeals officer had determined the scoring process was so marred by "significant errors and irregularities" that one company, Keystone ReLeaf, was entitled to a new review of its application by an entirely new scoring committee. 
Trade publication Marijuana Business Daily (MBD) has reported on the trials and tribulations in other states. 
In Arkansas, voters approved medical marijuana in 2016, but it did not open its first dispensary until early 2019. A court decision found the state's process for awarding cultivation licenses to be unconstitutional, a decision eventually reversed by the Arkansas Supreme Court.
Oklahoma's model has also faced criticism for being too wide open, ramping up in October 2018 only a few months after voters approved the program. 
The program has no caps on the number of business licenses.
As of February, MBD reported, the state had issued more than 2,000 dispensary business permits with approximately 240,000 approved patients. The trade journal also reported that a glut of dispensaries was driving a price war between the outlets.
Home Cooking
Kansas City attorney Christopher McHugh has a unique vantage point within the medical marijuana industry.
He is representing various clients contesting their license denials before the Administrative Hearing Commission. He is also co-founder of Vertical Enterprise, which has licenses in St. Joseph to grow, manufacture and dispense medical marijuana.
He contended that Wise Health Solutions failed to live up to its agreement with the state. "The quality of the process and the quality of the scoring was not up to snuff," McHugh said.
DHSS disagrees, he said, and that is the basis for a legitimate dispute before the state hearing commissioners.
He rejected the notion of corruption among Fraker and his team. The legislative proceedings, he said, were "political theater" that reflects "very poorly on the legislators that are doing that."
But Carpenter, the state House member from Kansas City, said the committee has every right to conduct oversight of the program. 
It's too early to draw conclusions about all the issues the committee is investigating, he said.
"At this point, there are more questions than answers," Carpenter said. "Obviously there are plenty of examples right now of identical answers being given completely different scores, so that raises concerns among the public and folks who spent a lot of time and money and energy to apply… They deserve to know that the process was fair."
He also stressed that "there isn't anything conclusive one way or the other in terms of whether anything was done intentionally to affect the outcome of the process."
As a longtime advocate marijuana legal reform, attorney Dan Viets has also been watching the process unfold in Jefferson City.
He doesn't dispute there are reasonable questions about the scoring process, and he acknowledged the concerns about corruption.
He argued that two recent House votes to lift the caps on licensees sent a strong signal to DHSS that it might be wise to eliminate the ceilings. 
But, Viets said, all the focus on the licensing misses the fact that about one-third of the cannabis patients are authorized to grow their own pot at home, and have been doing so for almost a year.
Home cultivators can have as many as 18 plants growing at any given time. Home growers are allowed to keep three-month's supply of medical marijuana on hand, Viets said.
Medical marijuana patients are allowed to purchase up to 4 ounces of pot per month, unless their doctor authorizes more.
Given the allowable size of cultivation facilities, Viets doubted there will be a terrible shortfall once growers harvest the initial crop.
Of course, home growers don't have to worry about that. And, Viets said, you don't have to smoke the pot to realize its benefits.
He said, "People who are good cooks can cook almost anything with cannabis."
Mike Sherry is senior reporter for Kansas City PBS. He can be reached at msherry@kcpt.org or 816.398.4205.