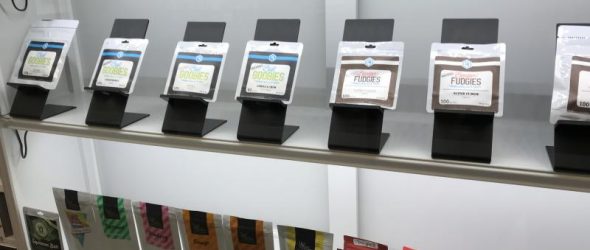 https://cannabisexaminers.com/wp-content/uploads/2020/05/200511_freedom_fudgies_2.jpg
A half-dozen people lined up to buy McLean County's first recreational cannabis at the first opportunity Monday morning.
Noah Kraus of Carlock was one of them. Kraus said he has waited for years for legal recreational marijuana.
"This means freedom because I think everyone should have the right to choose what they do with their body, their life. As long as you don't encroach on other people's rights I think we're OK to do it," said Kraus.
Kraus said he carefully selected the products he wanted from the Jushi online catalog.
"For me, it's the most THC. The THC definitely helps me get to sleep at night," said Kraus.
THC is the psychoactive ingredient in marijuana. Kraus said he's not concerned with potential bad health effects in his lungs from inhaling burning weed.
"Not so much. I've been a smoker for a long time, cigarettes. And it can't be any worse than that," said Kraus.
"The THC definitely helps me get to sleep at night."
Jushi, the company that runs the dispensary on Northtown Road in Normal, said it also has a license for a second location in Bloomington. 
"We believe we have identified a space which is exciting. But we're still in the beginning stages. However we do hope to have that location open in this area by the end of the year," said Blythe Huestis, vice president of retail sales for Jushi.
"We do know that people have really been looking forward to our stores."
Huestis said it's hard to predict sales numbers for the store in Normal.
"Under these circumstances we know that people maybe are not here right now. It's a big college town so that could be part of it. We also know that right now that a lot of people just aren't comfortable coming into public spaces, but we do know that people have really been looking forward to our stores beginning to serve our adult-use customers," said Huestis.
Even without the pandemic, Huestis said every state is different. She said states that allow adult use have significant sales and the company has watched Illinois numbers.
"So we predict that we'll do well here," said Huestis.
Huestis said part of the company coronavirus protocol is people must order online. There are limits on how many people can be in the building, how close they can be, and which pay window they use in addition to temperature monitoring of workers and cleaning regimens.
We're living in unprecedented times when information changes by the minute. WGLT will continue to be here for you, keeping you up-to-date with the live, local and trusted news you need. Help ensure WGLT can continue with its in-depth and comprehensive COVID-19 coverage as the situation evolves by making a contribution.