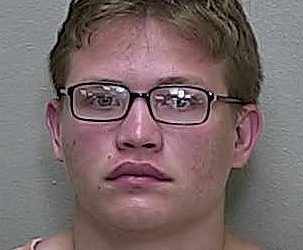 https://cannabisexaminers.com/wp-content/uploads/2020/06/Frederick-James-Hinkle.jpg
An 18-year-old Ocala man was arrested after marijuana and heroin were found in his vehicle during a traffic stop.
Frederick James Hinkle, 8849 SE 87th Terrace, was charged with possession or heroin, possession of less than 20 grams of marijuana, and possession of drug equipment. Hinkle was stopped in a 2001 Chrysler PT Cruiser by a Marion County sheriff's deputy on Wednesday night after he failed to come to a complete stop at the stop sign at the intersection of Emerald Road and SE 79th Avenue Road.
While talking with Hinkle, the deputy smelled the odor of marijuana coming from inside the vehicle. When asked if there was anything illegal inside the vehicle, Hinkle said no, according to the sheriff's office report.
The deputy conducted a vehicle search and found a marijuana grinder in the glove compartment, and a small plastic baggie with a green leafy substance in a pair of black sweatpants on the rear floorboard. Found inside the center console was a White Owl cigar wrapper held shut by a rubber band. Inside the cigar wrapper was a small amount of a white powdery substance, the report said.
The green leafy substance and the residue inside the grinder tested positive for marijuana, while the white powder tested positive for heroin. Hinkle said he was unaware of the grinder being in the vehicle but he admitted it was his. He said he knew about the marijuana in the sweatpants and was aware of the cigar wrapper but didn't know it contained heroin. Hinkle said he has never done any illegal drugs besides marijuana, according to the report.
The deputy told Hinkle he was being arrested and asked if he had anything else on him before being taken to jail. He said he had more marijuana in his groin area and took out a small baggie with a green leafy substance that tested positive for marijuana. The total amount of the marijuana seized was 3.96 grams, while the total weight of the heroin was 5.3 grams, the report said.
Hinkle was released Friday from the Marion County Jail on $3,000 bond. He is scheduled to appear in Marion County Court on July 21.