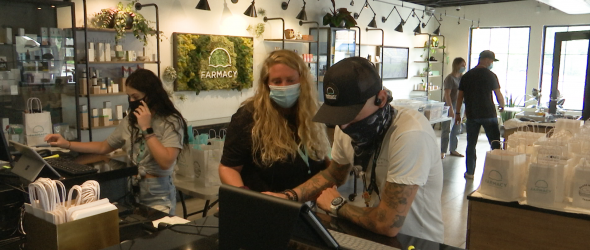 https://cannabisexaminers.com/wp-content/uploads/2020/08/Screen-Shot-2020-08-24-at-12.16.06-PM.png
Cannabis
SANTA BARBARA, Calif. – The pandemic has not slowed down The Farmacy Santa Barbara–which opened a year ago Monday as the city's first retail cannabis storefront.
The dispensary, near De La Vina and Mission Streets, opened Aug. 24, 2019 to a line stretching outside and down the block.
During the pandemic, no customers are allowed inside the store. Rather, they can line up distanced outside and buy products at a window, similar to customers interacting with a bank teller.
CEO Graham Farrar says the year has been a success, and that business has sped up during the pandemic.
"If anything, we are busier than ever before," he said Monday. "Cannabis is a real bright spot against an otherwise pretty dark economic backdrop."
Farrar says not only are more people buying cannabis products for recreation and fun, but more are now coming to his dispensary to find products to reduce anxiety or make it easier to fall asleep. He says cannabis has been a welcome aid for people seeking relief from the ongoing stresses brought on by the current health and economic crises.
This is a developing story. Check back for updates.
Coronavirus / Economy / Health / Money and Business / Santa Barbara- S County