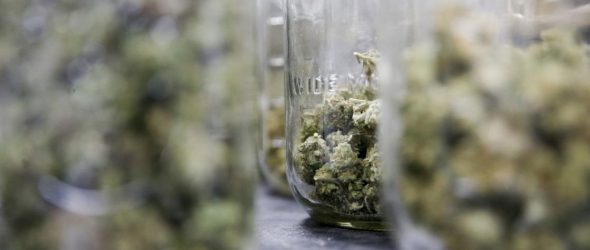 https://cannabisexaminers.com/wp-content/uploads/2020/02/5e4336d5624a1.image.jpg
As Oklahoma led the way in lawsuits targeting the opioid crisis, patients in the state found an alternative to the prescription pills being pumped by big pharma into all corners of the country. Medical marijuana was legalized through a state question that received 57% support from voters in 2018.
Patients with a physician's recommendation received the first licenses to buy, consume and even cultivate their own cannabis in fall 2018, and since then, about 250,000 patients have been licensed by the Oklahoma Medical Marijuana Authority. More than 9,000 businesses have been licensed, including more than 2,000 dispensaries; however, that number exceeds the amount of actual retail medical marijuana business storefronts.
Per-gram prices were as high as $20-$35 during the first days cannabis was on dispensary shelves, and the market took months to stabilize, with many retail shops now offering grams for $10-$18.
"Prices have started going down just within the past three or four months," said Danna Malone, owner of Ye Olde Apothecary Shoppe dispensary in south Tulsa. Malone said the fall harvest of outdoor grows helped increase supply, as well as more growers getting into the business and creating competition, which affects prices.
Even though her store has been targeted three times by thieves, Malone says she has taken money out of her own pocket to help patients who still have problems with pricing.
"We also have a compassionate care fund available for cancer patients looking for (high-THC potency concentrate) at cost," she said. "If somebody has a need, we prefer they come talk to us instead of breaking into our dispensary."
Malone's business outgrew its first location within two months and, after moving to a larger site farther south, the dispensary celebrated nearly $1 million in sales last year.
Retail sales across the state surpassed $345 million in 2019, and $62.6 million in taxes has been collected since sales started in 2018, according to the Oklahoma Tax Commission. When calculating tax revenue for medical marijuana in Oklahoma, it's important to note that state and local sales taxes are collected, in addition to the 7% excise tax. In Tulsa County, revenue from the excise tax and state and local sales tax totaled nearly $12 million since 2018.
The medical marijuana industry supports 9,412 jobs across Oklahoma, according to a 2020 report from the cannabis-information site Leafly, putting the state at No. 9 for cannabis-related employment.
Among other law changes: Doctors are prohibited from seeing patients inside retail dispensaries, but video consultations are available from services including PrestoDoctor or NuggMD. Waste disposal and lab testing licenses were established by OMMA in the past year.
Oklahoma Compliance Testing Lab in Tulsa started operations in summer 2019 with three employees but now employs 12 staff members. Owner Wendy Stacy said it was more important to hire local talent in the science field than to look for employees experienced in cannabis testing.
Stacy said potency, terpene content and possible contaminants are among tests available for licensed patients, as well as growers and processors, and it's important because cannabis is being used for medical purposes. "Nowhere does it say a higher THC number makes a better medicine," Stacy said. "Terpenes have a huge effect medicinally. It's not the psychotropic effect so much as the smell (of the cannabis) that can make a difference with what you're treating."
Marijuana businesses also have to register with the Oklahoma Bureau of Narcotics and Dangerous Drugs. The bureau has licensed 4,757 growers, processors and dispensaries, but 770 businesses opted not to renew their license for a second year, said spokesman Mark Woodward.
"There's a lot of discrimination going on, even though we are a medical state. It's still kind of taboo with some people, and I think that's a shame," Stacy said. "Israel is the world leader in cannabis research, but the U.S. should be more active. It's not a miracle drug that cures everything, but it has a huge impact on how we treat patients who are sick."
Read other stories from the Outlook section
Anna Codutti 918-581-8481
anna.codutti
@tulsaworld.com
Twitter: @annacodutti