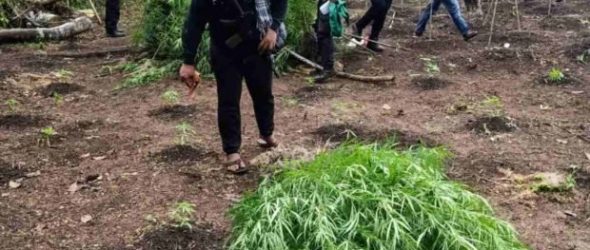 https://cannabisexaminers.com/wp-content/uploads/2020/05/marijauna-sulu-620x827.jpg
MANILA, Philippines — Combined forces from the Naval Forces Western Mindanao and Philippine Drug Enforcement Agency seized P5.1 million worth of marijuana plants from a plantation in Sulu.
Authorities uprooted and burned around 22,000 fully grown marijuana plants in a 2,100-square meter plantation in Sitio Mangal-Mangal in Brgy. Masjid Punjungan in Kalingalang Caluang in Sulu on Friday (May 1), the Western Mindanao Command said in a statement.
The plantation is believed to be owned by Sahabi, a supporter of the Abu Sayyaf Group.
The joint forces were supposed to arrest drug personalities but they discovered the marijuana plantations instead. No one was around at the time of the raid so no arrests were made.
"Sahabi is a supporter of the Abu Sayyaf Group. The marijuana plantation could be another source of fund of the ASG and their supporters," said Maj. Gen. Corleto Vinluan, Joint Task Force Sulu commander.
Read Next
EDITORS' PICK
MOST READ
Subscribe to INQUIRER PLUS to get access to The Philippine Daily Inquirer & other 70+ titles, share up to 5 gadgets, listen to the news, download as early as 4am & share articles on social media. Call 896 6000.