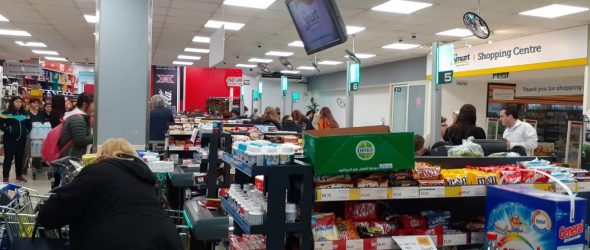 https://cannabisexaminers.com/wp-content/uploads/2020/04/panicbuyinginmalta.jpg
Since the start of the COVID-19 global pandemic, a sort of worldwide panic has set in across the globe, as consumers everywhere struggle to find basic necessities at the supermarket. There's been a run on toiletries and cleaning supplies, as well as other less essential items, forcing many people during the stay-at-home orders to make do with what they have.
American Marijuana surveyed almost 1000 US cannabis consumers near the start of the coronavirus outbreak to see if the state-imposed quarantines had changed how people were shopping for marijuana. The results were interesting, showing just how people prioritize what's essential in stressful situations.
According to the survey of 990 US cannabis users, most people would prefer the necessities — food, face masks, toilet paper — over cannabis if forced to make a decision. However, a surprising 28 percent of those surveyed said they would choose cannabis over a face mask.
When it came to stocking up on cannabis before the stay-at-home orders put in place by governors across the country, respondents were pretty evenly split on whether or not they stocked up on cannabis ahead of time. According to the results, 49 percent of those surveyed did stock up, while 51 percent said they did not.
Of those that did stock up, 55 percent said it was to calm their nerves about the global pandemic, while a little more than 20 percent of those surveyed said they "wanted some marijuana to chill at home."
The complete survey and its results can be found on American Marijuana's website and are worth reading as they give a fascinating glimpse into the mind of the modern-day cannabis consumer.
Making moves in Virginia
In Virginia, where cannabis is on track to be decriminalized later this year, Gov. Ralph Northam sought to delay a study on the full effects of marijuana legalization. However, the Senate rejected his request for a delay.
Meanwhile, companies are starting to make moves in the state now that new legislation has moved forward. Jushi Holdings plans to add five more cannabis dispensing facilities in the state, bringing the Company's total number of retail locations to six in Virginia.
 "We believe the enactment of this legislation is a significant event for Virginia cannabis patients and Jushi shareholders," said Jim Cacioppo, Chairman and Chief Executive Officer of Jushi. "This legislation provides us the opportunity to improve patient access to medical cannabis products through six locations in Northern Virginia. We also applaud Governor Northam and the Virginia General Assembly for removing the percentage-based cap on THC in cannabis oil, which will expand our product categories and foster more effective dosing for patients. The legislation will help further Jushi's growth strategy of becoming a top supplier in limited license states and jurisdictions."
Could CBD fight the coronavirus?
A very early, non-peer reviewed study out of Canada shows that CBD may help fight the coronavirus. Researchers at the University of Lethbridge say that the data they've collected shows they may be on to something, although they stress that no clinical trials have been done yet.
"Researchers concluded that CBD may reduce the virus's ability to attach to ACE-2 receptors (found in our respiratory system) by 70%," wrote Dr. Mike Hart on Twitter about the study.