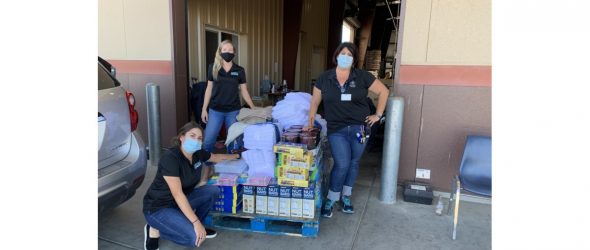 https://cannabisexaminers.com/wp-content/uploads/2020/07/Perfect_Union_Poverello_House.jpg
FRESNO, Calif.–(BUSINESS WIRE)–Perfect Union, one of California's fastest growing cannabis dispensary operators, extended their rapidly expanding community outreach program to the Central Valley via a series of donations to two Fresno non-profits. Perfect Union presented an $800 check from money donated by customers at their dispensaries to Ashley Rojas, the Executive Director of the Fresno Barrios Unidos. The money will be used to purchase laptops for the Barrios Unidos Youth Academy. Perfect Union also donated various household essential items, like food, blankets and hygiene products, to the Poverello House. The goods, valued at approximately $1,000, will be used to provide essential supplies to families who utilize the Poverello House for healthcare, meals, shelter and social services.
Perfect Union has a long history of community-based partnerships in the areas they serve. In addition to charitable donations and volunteer work, their offerings include compassion programs (where medical patients and economically challenged customers receive heavily discounted cannabis products), free support groups (PTSD/Veterans, legal expungement services, etc.), chiropractic services and yoga classes. With the recent expansion of their dispensary business into the Central Valley, they are expanding their outreach programs to the Fresno area.
"We are pleased to be able to help the families in Fresno during these incredibly trying times," said David Spradlin, CEO of Perfect Union. "Helping to make communities stronger has been one of our fundamental operating principles since we started the business more than a decade ago. Our business is about serving the community around us and making it better for everyone in whatever way we can."
"We are grateful for the generous support of our friends from Perfect Union," said Ashley Rojas, Executive Director of Fresno Barrios Unidos. "Our goal is to help the youth and young adults of Fresno to step proudly and boldly in their own power towards the future of our community. We couldn't do it without companies like Perfect Union who share that belief and help us secure the resources we need to meet our goals."
About Perfect Union
Perfect Union is one of California's fastest growing dispensaries and is headquartered in Sacramento. Their mission is to create a cannabis retail experience that makes everybody better – their patients and guests, their employees and their community. Perfect Union is vertically-integrated and holds and operates several licenses for cultivation, distribution, and retail in both California and New Mexico. They were recently selected as the #1 Cannabis Business in 2020 by the Sacramento Business Journal. For more information, please visit www.perfect-union.com.