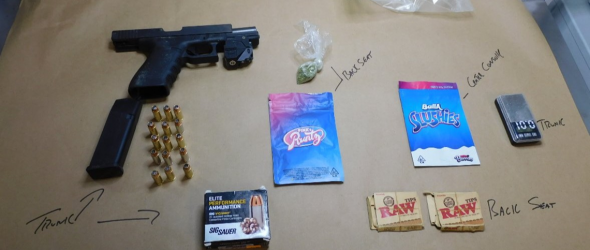 https://cannabisexaminers.com/wp-content/uploads/2020/07/de343ffa-d922-4a25-ab09-f7797b1a19c7_1140x641.png
WESTLAKE, Ohio — A 22-year-old man from South Euclid faces possible felony charges after a routine traffic stop in Westlake turned into a seizure of a gun and suspected marijuana. 
According to Westlake Police, the incident happened on Sunday at around 2:00 p.m. The driver was stopped on Hilliard at Regency Circle for equipment and moving violations. 
The officer observed signs of drug use in the car. A closer investigation showed suspected marijuana, a scale, and other paraphenalia. A loaded semi-automatic handgun along with loose ammunition was also found and confiscated.  
The driver admitted that the handgun and other contraband was his.  
Westlake Police say the case will be presented to the county grand jury for determination of felony charges.