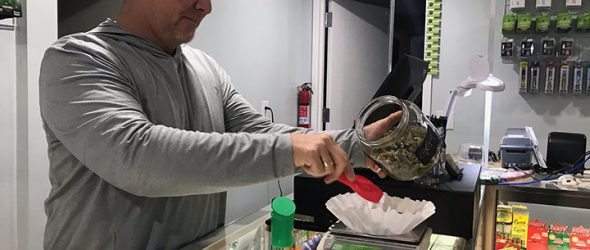 https://cannabisexaminers.com/wp-content/uploads/2019/12/Marijuana-WEB.jpg
ALPENA — Multiple Northeast Michigan municipalities have voted to allow recreational marijuana businesses in the past year, including Presque Isle County, Onaway, and Harrisville, while others still have allowed medical marijuana businesses.
In the November 2018 election, voters allowed Michiganders to possess and use marijuana for non-medicinal purposes. The law also allows those who obtain a license to sell the drug commercially, but allows local governments to prohibit the establishments within their boundaries.
Some Northeast Michigan communities are hoping marijuana business could help spur their economies.
And there is money to be had, experts say.
The Michigan Senate Fiscal Agency reports marijuana could generate over $262 million in state tax revenues by 2023.
The National Cannabis Economy reported in December 2018 that the marijuana industry totaled more than $8 billion in sales nationwide in 2017. Sales were estimated to reach $11 billion in 2018 and then $23 billion in 2022.
Washington was the first state to legalize recreational marijuana in 2012. The state collected $367 million in income and license fees in 2018, up from $319 million in 2017.
Colorado, where voters in 2012 allowed people age 21 and older to grow and sell the drug, passed $1 billion in state revenue in June, according to the Department of Revenue for the state.
The Harrisville City Council voted in March to allow recreational marijuana to be sold within its limits, the first municipality in Northeast Michigan to do so.
Since then, the council has approved two marijuana applications: one on U.S.-23 for medical and recreational and a marijuana provisioning center on North State Street.
Presque Isle County voted in October to allow recreational marijuana establishments in the county. The vote only applied to townships within the county that use the county's zoning rules, and marijuana businesses could only open in townships that allowed such shops.
Onaway also voted in October to allow marijuana microbusiness in its industrial park. City Manager Kelli Stockwell said only two are allowed in the industrial park. The application fee is $5,000 yearly, she said.
Meds Cafe in Rogers Township is the only marijuana business currently operating in the region. Co-owner Scott Schroeder said the business, which opened in April and is a medical marijuana store, is a big responsibility.
"People locally are used to going down to Bay City and the biggest cities and bigger dispensaries, where they had a bigger selection and access to all the caregivers," Schroeder said. "That was the biggest thing that we've heard from people up here, is that our prices are good."
The business is now interested in growing medical marijuana. Schroeder and co-owner Michael Atkins have already purchased property for growing.
"We're helping a lot of people, we're doing a good service, and we see it on a daily basis," Schroeder said.
Municipalities that have prohibited recreational marijuana businesses in the past year include Alpena, Alpena Township, Hillman, and Lincoln. Municipalities that prohibit marijuana businesses lose out on a share of tax revenue generated by the sale of the drug.
"I don't see why everybody doesn't opt in," Schroeder said.
Julie Goldberg can be reached at 989-358-5688 or jgoldberg@thealpenanews.com. Follow her on Twitter @jkgoldberg12.