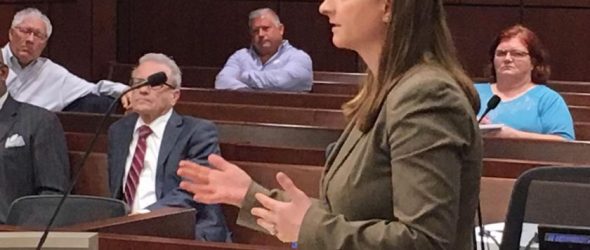 https://cannabisexaminers.com/wp-content/uploads/2020/06/5d894768dda22.image.jpg
The number of medical marijuana dispensary licenses in Warren would more than double under a proposal by the city administration to settle a lawsuit filed by some of the companies that were denied a permit.
According to recent emails from the attorney handling Warren's defense to lawyers representing more than two dozen companies, a copy of which were obtained by The Macomb Daily, the city would grant an additional 16 licenses on top of the 15 approved by the City Council in 2019.
The proposal was authorized by Mayor Jim Fouts in order to resolve the court battle because he fears protracted litigation could become too costly for the city, according to the emails.
In the first of the two emails, dated May 21, Warren's outside attorney on the case, Andrea Pike, told the corporations' lawyers she believed the only settlement that 16 firms would agree to is if they, too, were granted dispensary licenses – increasing the potential maximum number of provisioning centers from 15 to 31.
Pike said some applicants who unsuccessfully sought the coveted, lucrative licenses would agree to a lottery of additional permits but only if the 15 companies who were approved last year were part of that same pool for the lottery, the email shows. However, the consensus of the 15 firms who thought they were on the path to opening up shop in Warren opposed their inclusion in a lottery. Those who were part of settlement talks did not express opposition to the issuance of additional dispensary licenses in Macomb County's most-populated community, the communication between attorneys states.
Pike said in the May 21 email: "I received authorization this evening from Mayor James Fouts to settle this case by issuing an additional 16 licenses, on top of the 15 that were issued on October 25, 2019, to the 15 plaintiffs and 1 appellant. The reason for the change of heart is simply a business decision to save the City and the taxpayers further expense in defending this growing litigation."
Pike also noted the settlement would be subject to approval by the City Council. She said if the companies agreed to the settlement, she would have to request a closed-door meeting with council members because the settlement — if approved — would require the council to amend Warren's medicinal pot law to allow for additional licenses.
In terms of litigation, the companies have been asked to absolve the city for breaking a state law several times last year.
In a major decision in the ongoing lawsuits filed last year against the city and some officials, Macomb County Circuit Judge Carl Marlinga ruled in April a committee of Warren officials – which included three council members, City Attorney Ethan Vinson and then-Public Service Director Richard Sabaugh –violated multiple aspects of the Michigan Open Meetings Act when the panel met behind closed doors dozens of times last year to review applications from 65 companies that applied for provisioning center licenses and to pose questions to representatives of those firms. In doing so, Marlinga ordered the 15 licenses granted last year be vacated and essentially nullified.
The judge also ordered the city to not take additional steps – such as building permits and site plans – planned by the companies in their efforts to move forward and eventually begin selling marijuana.
The ruling marked a major victory for 16 of the applicant firms that were not awarded licenses by the last council, and who went to court to challenge the city's 2019 review process and the controversial scoring by members of the Warren Medical Marihuana Facilities Subcommittee.
Shortly after his ruling two months ago, Marlinga issued a "stay" that put enforcement of his order on hold after the 15 companies who were dealt a legal defeat by the judge's ruling joined the case as "intervening" parties because of their direct interest in the outcome of the case.
Despite Marlinga's conclusion and admonishment of Warren officials for violating the Open Meetings Act, Pike in her May 21 email said the city administration wants a provision in the settlement that would state Warren officials did not violate the Open Meetings Act. That law is intended to promote transparency in government and public access to discussions by public bodies.
According to Pike, a settlement also should:
• Drop individual city officials as defendants
• Require action by Warren council members
• Allow changes to the Medical Marihuana Regulatory Ordinance to increase the number of provisioning center licenses from 15 to 31, with the additional 16 going to those who either filed lawsuits against the city or joined later as interest bodies.
Pike told the lawyers for the various companies Marlinga "may be willing to sign the agreement stating that the Open Meetings Act was not violated and the licenses issued are valid. He may rescind his Opinion and Order or keep the stay in place if we are able to reach a settlement."
In a follow-up email on May 26, Pike told opposing attorneys Marlinga urged her to keep settlement discussions continuing by all sides, and that she hoped an accord could be reached before the next schedule settlement conference with the judge.
Pike wrote: "Lastly, as I am sure you will understand, the authorization from Mayor Fouts to issue 31 MMPC licenses (an additional 16 licenses) to have a global settlement of this case involves a proposal to increase the licenses issued but not fill any vacancies. For example, if a party does not obtain a certificate of compliance, another license will not be issued in place of that license; if a party opens but is unable to continue to operate after two years, another license will not be issued in place of that license. There were earlier settlement discussions about going down the "list" and/or spots opening up, but that would not be needed here. I do not foresee this as being a problem, but I wanted to convey it now in case it comes up when you discuss the license increase with your clients."
On Thursday, Greenhouse Farms Warren LLC attempted to enter the case but was denied by Marlinga. Court records show the next settlement conferences is scheduled on June 18. Oral arguments and hearings on several motions are scheduled July 9.
Only one of the current council members elected last November, Ronald Papandrea, was on the previous council that voted last autumn to grant 15 licenses. Papandrea also served on the medical marijuana facilities panel. His scoring of the 65 applications had a dramatic impact on tabulations and subsequent rankings of the firms, because he used a pass/fail system in which he only gave every applicant either a "10" or a "5" on a list of 17 judging criteria.
The settlement proposal from Fouts to substantially increase the number of pot shops is a stark change from some of the mayor's previous stances on medical marijuana. The mayor in recent years has repeatedly said he does not oppose the use of marijuana for medicinal purposes, but is against "pot for profit."
Last October, Fouts vetoed the council's decision to grant 15 medical marijuana provisioning center licenses. Council members voted to override the mayor's challenge.
When the lame duck council voted to give dispensary permits to three additional applicants, the mayor blocked that move, too. That veto was sustained by the new council elected Nov. 5.
Fouts' reason — at least according to Pike's email — for a settlement may not be surprising. Elected to his fourth term last November, Fouts has predicted council's handling of licenses would spark numerous lawsuits against the city.
"By adding three more, it may encourage other applicants to sue, too," Fouts told The Macomb Daily on Nov. 6, 2019 following his veto to block the increase of provisioning centers by that amount. "I think I have a responsibility as a fiduciary of taxpayer money that we minimize lawsuits. These are lawsuits waiting to happen.
"It doesn't erase the fact we have a ticking time bomb of lawsuits," the mayor also said at the time, noting he voted in favor of the statewide ballot proposal that created Michigan's medical marijuana laws.
Thirty-one medical marijuana dispensaries would equal almost one per square mile in Warren. Whether such facilities would reach all corners or most neighborhoods remains to be seen, but supporters of medical marijuana facilities contend such businesses could be an economic shot in the arm while reducing blight and reviving some industrial properties. The city also would receive thousands of dollars in licensing and building permit fees.
In Center Line, a 1.7-square-mile enclave of Warren, city officials have approved the maximum 15 provisioning center permits allowed under city ordinance, City Manager Dennis Champine said Thursday. Two have been issued.
The first marijuana dispensary in Center Line is scheduled to open Friday, June 5. Clinic Cannabis Co. is located on Lawrence Avenue at the Interstate 696 service drive, west of Van Dyke Avenue. Co-founder Nick Hannawa also owns and operates the state-licensed Northern Roots Provisioning Center in Oscoda, Mich.
Center Line's law also allows for:
• Fifteen processing centers. Two of those permits have been approved but not issued yet. Thirteen of those permits remain available.
• Fifteen "secure transporter" licenses and 15 "safety and compliance" permits. None have been approved.
• Five "Class A" pot growing licenses. An application for one has been OK'd by city officials but has not yet been issued.
• Five "Class B" grow permits, all of which are available.
• Twenty "Class C" grow licenses. Issuance of 10 is pending, with 10 others still available.