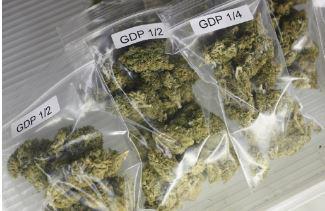 https://cannabisexaminers.com/wp-content/uploads/2020/07/AR-200729976.jpg
PROVIDENCE — The state has licensed its first testing lab to better regulate and improve the safety of medical-marijuana products sold at the state's three dispensaries and grown as well by state-licensed cultivators.
Green Peaks Analytical, of Warwick, will be the first licensed third-party business to sample and test those products for pesticides, metals or solvents, announced the state Department of Health on Monday.
To date, the dispensaries and cultivators have done their own testing or contracted with private unlicensed laboratories, the health department said.
"While some laboratories across the countryare only licensed to test, Green Peaks Analytical will alsocollect samples directly from licensed cultivators and compassion centers [otherwise known as dispensaries] to ensure that the sample'schain of custody is not broken," the department said.
"Like all other patients in Rhode Island, people who use medical marijuana deserve to have access to safe medication, and they deserve to have accurate information about that medication," said Health Director Nicole Alexander-Scott.
"The increased oversight" from both the health department and the state Department of Business Regulation "will help ensure that critical product safeguards are in place for medical marijuana patients," she said.
Over a six-week period DBR, after discussions Green Peaks Analytical, cultivators, compassion centers, and the patient community, "will establish a time frame by which all medical marijuana products" will also be required to have potency totals that have been "verified by a licensed laboratory on their product labels."
Future certification of dispensaries and cultivators will also be dependent on testing for contaminants, the health department said.
Green Peaks is affiliated with R.I. Analytical Laboratories, Inc., which corporation documents show has been in business since 1976. A company spokesman could not be immediately reached.
tmooney@providencejournal.com
(401) 277-7359
On Twitter: @mooneyprojo