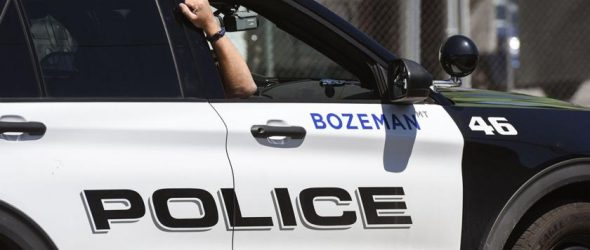 https://cannabisexaminers.com/wp-content/uploads/2020/08/5f2c8e82a7f63.image.jpg
Black people in Gallatin County are more likely than white people to be arrested for marijuana-related offenses here than anywhere else in Montana.
That's according to an American Civil Liberties Union report released in April. The report found that in 2018, Black people in the county were arrested for marijuana-related offenses at a rate 18 times that of white people. In Montana, Black people were arrested for marijuana offenses nearly 10 times the rate of white arrests during the same year, the highest in the country.
In 2018, the report said, 506 Black people and 106,028 white people lived in Gallatin County. Black people were arrested 2,174 times for marijuana compared to 120 times for white people.
Gallatin County law enforcement officials said steps are taken within their departments to prevent racial profiling and that most marijuana-related arrests stem from officers investigating other criminal activity. Sheriff Brian Gootkin and Bozeman Police Chief Steve Crawford each said they are evaluating their numbers to see if they match the report.
There are several law enforcement agencies that patrol in Gallatin County. Belgrade, Bozeman, Manhattan and West Yellowstone each have a police department. Montana State University also has a police department. The sheriff's office patrols county area outside of those cities. Montana Highway Patrol is responsible for stretches of road that belong to state property.
And that list doesn't take into account Montana Fish, Wildlife and Parks and federal law enforcement agencies in the county.
The ACLU did not break down how many arrests each agency made that year.
The ACLU report looked at 6 million marijuana-related arrests in the country from 2010 to 2018. It found Black people in every state were arrested at higher rates than white people. On average, it found Black people across the country were nearly four times more likely to be arrested for marijuana offenses than white people.
The report broke down arrest numbers by state and county. Nearly 90% of the arrests were for possession of marijuana.
The report said police stop and search Black people, particularly youth, while at the park, bus, school, near schools or while driving, looking for something illegal. The report said this type of policing criminalizes people of color for doing normal things and is "a means of surveillance and social control counterproductive to public safety and community health."
The report was based on information from the Federal Bureau of Investigations' Uniform Crime Reporting, a program that generates reliable information for use in law enforcement administration, operation and management. It also looked at data from places not included in the program and the U.S. Census' annual county population estimates.
Judith Heilman, executive director for the Montana Racial Equity Project, said the report showed her that racial targeting happens here.
"I know that people who are black stand out more literally and figuratively to the white lens, or the non-melanated lens, but this is ridiculous because white people are using marijuana, too," Heilman said.
The National Survey on Drug Use and Health in 2018 found that 18.2% of Black people over the age of 18 reported using marijuana. Nearly 17% of white people over 18 also reported ingesting the drug.
Heilman's nonprofit has worked with Montana State University's Black Student Union and Bozeman United for Racial Justice to raise awareness about racial disparities in Montana and Bozeman. The groups are most known for recent rallies held in downtown Bozeman that drew thousands supporting the Black Lives Matter movement.
The statistics for the state didn't surprise her, but she said the numbers for the county raised "red flags" for her. This is something that happens in all 50 states, Heilman said.
Heilman said the solution requires more than training officers on implicit and explicit bias.
"You could be trained on that, but then what you go out and do in the field is completely different from what you're trained on," she said.
Heilman said she's unsure how many people read the report, absorbed the "alarming" information and recognized that "this is something that is really huge." She said it highlighted what she and other civil rights activists have been talking about long before George Floyd was killed by Minnesota police.
"This is what it's all about," Heilman said. "It's to bring attention to this fact that Black people are being targeted and are being arrested more … and being killed more."
Gootkin said he was taken aback by the report but that his office would not be doing anything differently "because we're not doing anything wrong to begin with." Anyone who works with numbers, he said, knows they can be manipulated.
"What's difficult is the ACLU paints this brush all the way across this county," he said. " … If our number is 18 (times) more, then I need to look at that, but I just can't imagine that it is."
He said extensive background checks, which include a psychological evaluation, and state law prevent racial profiling in the state. Sergeants are in charge of deputies, and Gootkin said he expects them to report those incidents.
"In our office, we really talk a lot about culture and we talk a lot about leadership," he said. "And if somebody sees something that's not right, and you bring it to our attention, we address it and we correct it."
No incidents have been reported, Gootkin said.
"I know what the ACLU is trying to say, but I just, I don't see it within our office at all," Gootkin said.
Bozeman Police Chief Steve Crawford said the department has "robust" training and policies that prohibit racial profiling. He said he couldn't comment on the ACLU's report because it was based on countywide numbers, not Bozeman's police department.
Crawford said the police department recently completed an internal review on racial profiling and use of force policies. That report was submitted to the city officials last month, and the police department is working on implementing recommendations included in it.
"We found that our existing policies with regards to anti-racial profiling and interactions with minorities were strong, but we found ways that we can make it stronger," he said.
Crawford received the report this past week and wouldn't comment on its findings until he had a chance to compare it with numbers from his department. He said it was unproductive to respond to others interpretations and comments until he was able to do so.
"I can only speak for our organization," Crawford said, "and I can tell you that racial profiling is not tolerated and it is not a practice of the men and women in this department."
SK Rossi, with the ACLU of Montana, said the numbers show us that enforcement for marijuana is different based on a person's skin color.
"It also shows that the 'war on drugs' has been pretty much an abject failure, and we need to think more broadly about how we treat drug possession and use," Rossi said.
Rossi said the disparities highlighted in the report are another example of the "systemic racism that exists in our criminal, legal system." Legalizing marijuana for recreational use, they said, is one step in the right direction in ending a small part of that disparity.
The ACLU report found marijuana arrests decreased in some states that moved to legalize and decriminalize marijuana. However, the report said, the countrywide trend of Black people being arrested at higher rates than white people for the drug continued in those states — some states that legalized or decriminalized marijuana still have laws regarding how much marijuana a person can have on them.
There is a push to legalize recreational marijuana in the state. A group is waiting for certification from the secretary of state's office on a ballot initiative to ask voters to legalize recreational marijuana in November. The election office has until Aug. 20 to say whether the initiative will be on the ballot.
Rossi hopes the initiative gets on the ballot and passes, noting it would be a source of revenue for programs that address addiction, mental health and treatment, and it would also free up law enforcement to deal with violent crimes rather than "something as harmless as marijuana possession."
"That would definitely go a long way in ending the racial disparity because then there would be no disparity," Rossi said, "because no one would be arrested for marijuana possession or charged or jailed for it."