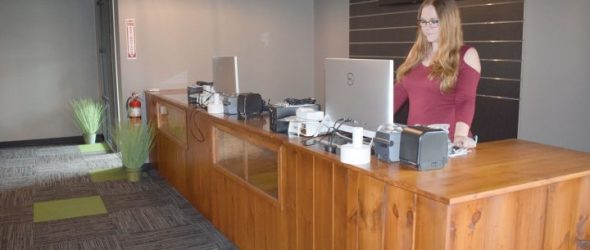 https://cannabisexaminers.com/wp-content/uploads/2020/08/rise-up1-720x500.jpg
IRON MOUNTAIN — Recreational marijuana sales will likely begin soon in Iron Mountain as the pandemic has slowed, but not stopped, a major cannabis project.
Workers are completing exterior work at the Rize U.P. dispensary at 1580 N. Stephenson Ave., one of two retail shops authorized by the city council in January.
"Coronavirus threw a lot of hiccups in," said Casey Honeyager, Rize U.P. cultivation director. "We're crossing our fingers hard," he said of the projected Sept. 5 opening date.
Rize has its medical licensing in hand and needs only final city approval for adult-use sales, he said.
"We're very excited," said Allison Farley, Rize Cannabis public relations and marketing director. "It looks different even than yesterday," she said, praising local contractors who have been involved from the start.
Due to coronavirus restrictions, the dispensary will initially offer curbside service only, although everything is in place otherwise, Farley said.
Rize promised a $5 million project and 60 to 90 jobs in gaining its licensing foothold. The company had targeted late April to begin adult-use sales, but then came the coronavirus, a shutdown, and delays in getting materials.
Honeyager estimated the investment already approaches $2 million, with construction to begin on a new building of 40,000 square feet to house much of its growing operation.
Rize will have room for about 1,500 plants in its renovated soft drink plant of 8,900 square feet, featuring new walls and flooring. The long-range plan is to have as many as 7,000 plants grown for both the medical and recreational markets.
Honeyager gained experience in medical cannabis in Montana before moving to Republic in 2011. With recreational marijuana legalized in Michigan, he was hired by Rize founders Nick Issak of Macomb and Julie Wentworth of Bay Harbor, concentrating on an Iron Mountain project after the city moved in June 2019 to allow commercial sales. Rize also has locations in Traverse City and Madison Heights.
The economic spinoff from the new dispensary could be significant. The Fire Station Cannabis Co. in Negaunee regularly draws customers from Wisconsin, Honeyager noted.
With its own growing operation yet to launch, Rize hopes to soon tap the efforts of Superior Selections, a locally owned cultivator that has already invested $1 million in a facility just a few blocks away at 106 E. Smith St.
Under state regulations, however, products must be tested, which involves hiring a secured transporter to take a shipment to a downstate laboratory. To date, there are no licensed transporters in the Upper Peninsula.
Rize continues to recruit employees, Farley said, including security. Planned hours are 9 a.m. to 9 p.m. Monday through Saturday,
Allison Farley, Rize Cannabis public relations and marketing director, inspects a station at the medical dispensary counter at the company's North Stephenson Avenue building in Iron Mountain. (Marguerite Lanthier/Daily News photos)
Tim Tippett of G. Brooks Electric Inc. in Iron Mountain works Wednesday near the entrance to Rize U.P.
and 10 a.m. to 8 p.m. Sunday.
Lume Cannabis is also coming to Iron Mountain, offering a $2.18 million investment and 20 jobs to get on track for the city's second dispensary license. Its retail business is planned at 117 and 119 S. Stephenson Ave., where structures from the late 1800s will be rehabilitated.
Lume expects to build a growing and processing facility on the west side of Hydraulic Falls Road between Stephenson Avenue and Breitung Cutoff Road, potentially serving all of its U.P. market.
The state's Marijuana Regulatory Agency is charged with regulating and licensing marijuana establishments. Under legislation signed into law by Gov. Gretchen Whitmer in February, marijuana products must include warnings regarding risks to unborn children and children who are breastfeeding.
Marijuana shops also must make pamphlets available explaining underage use health risks.
Jim Anderson can be reached at 906-774-3500 ext. 226 or janderson@ironmountaindailynews.com.