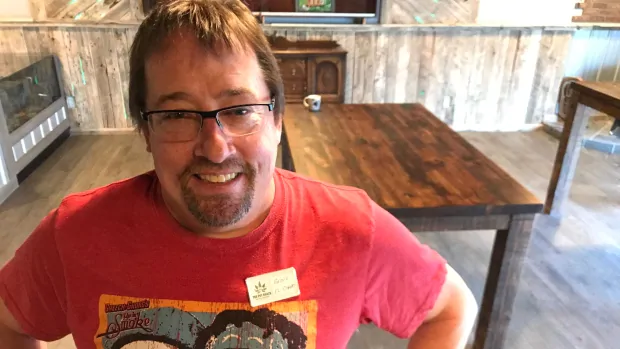 https://cannabisexaminers.com/wp-content/uploads/2020/06/geoff-conn.jpg
Geoff Conn says he's worried about what the future will hold for his cannabis store.
Conn owns the Pot Shack, one of six legal marijuana stores operating in Saskatoon.
While the entrepreneurs allowed to open pot shops when it first became legal were chosen by a limited lottery, the Saskatchewan Liquor and Gaming Authority has announced that it will begin accepting applications for new licences in September and there will be no limit on the number of new licences awarded.
Conn is worried a deluge of new pot stores will be bad for all of them.
"The customers aren't there," he said.
"In Alberta, when they open up 400 stores, you know half of them are going to be bankrupt in the next two or three months."
Conn and three other store owners are asking the City of Saskatoon to lift the cap on new stores gradually.
"We just think that if it's done slower and opened up with a particular method and a plan, it would be a lot easier for everybody involved right now," he said.
The Saskatoon Licensed Cannabis Retailers Working Group would also like to see a larger setback between marijuana stores.
Right now, marijuana stores need to be separated by 160 metres. The group would like to see that increased to 500 metres.
"That means that people that are bringing in stores aren't going to be sitting right on top of the existing ones," he said.
"They're not just going to be homed in on one or two particular areas."
Not interested
City administration advised against both a cap on new stores and new setback restrictions in a report to Saskatoon city council.
After reviewing cities across the country, administration noted most don't cap the number of stores.
"While the cannabis retail store owners raised concerns about the economic viability of additional stores, regulating business competition would be a departure from the City's current approach and role in regulating the cannabis industry for land use impact," read the report.
The city is recommending that the license fee paid by new marijuana stores or production facility be reduced to $4,500, down from $20,000.
The matter will be discussed at the city's standing policy committee on planning, development and community services meeting on Monday.