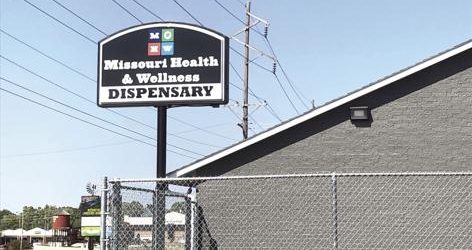 https://cannabisexaminers.com/wp-content/uploads/2020/09/5f6ede104fab0.image.jpg
A medical marijuana company announced this week it received approval from the state to operate its Sedalia dispensary. 
Missouri Health & Wellness is a medical marijuana company licensed to operate five dispensaries in Missouri. The company announced its Sedalia dispensary was recently approved by the Missouri Department of Health and Senior Services to operate in Missouri. 
"We passed our state inspection," MH&W Regional Manager Kathleen Beebe told the Democrat. "Basically what that means is the state has given us the green light to operate. Now we're waiting for supply, for the growers to have something for us to sell."
According to a press release, this is the second MH&W location to gain approval after its Washington location was approved earlier this year. MH&W also owns and operates dispensaries in Belton, Kirksville, and Jefferson City. The dispensary will offer a variety of cannabis products, including prerolls and edibles, which could range from hard candies, tonics, drinks, chocolates, concentrates, butters, and more. 
"We will carry everything that you would find in a typical dispensary, pretty much anything that's infused with cannabis," Beebe said. 
The company's ownership team includes several doctors and a clinical pharmacist who have studied marijuana. The group combines professionals in the banking, legal, accounting, law enforcement, medical marijuana, and health care fields. According to the release, they are "looking forward to helping MH&W provide the people of Pettis (County) and surrounding counties a safe alternative to opioids." 
The owners are predominately from Missouri and have seen firsthand the "transformative ability of medical marijuana to greatly enhance the quality of life for patients by providing pain relief, reducing inflammation, increasing sleep and more," according to the release. The team "looks forward to providing safe access to medical marijuana and becoming an integral part of the Sedalia community."
Beebe said the dispensary has begun conducting interviews and stated, "It's important to MH&W to focus on diversity and hiring local people. We want to make a positive difference in the communities we serve."
Beebe explained the Washington location is likely to open first and Sedalia will be next. The Sedalia location has already hired an assistant manager and has started to post job openings. 
"We've had a lot of support from the community and people have been calling and stopping by asking when we're going to open," MH&W statewide manager Randy Stambaugh commented in the press release. "We're happy to say that we're ready to serve patients in Sedalia and surrounding communities as soon as product is available." 
MH&W plans to open to the public once medical marijuana becomes available by Missouri-licensed cultivators. Beebe said the length of the process was due to several factors, including growers, manufacturers and labs not getting their permits due to COVID-19 and the amount of time needed to grow, manufacture and test the products. MH&W is hoping to have medical marijuana available for sale by early winter.
"I hate to say anything that gets people's hopes up, but that's our hope…" Beebe explained. "Obviously there's a growth cycle. They (growers) may have passed their inspection in June, but it takes a few months to grow the plants and then to cure it, harvest it and cure it and then have it tested and all of that. It's not a fast process. We do have some lines on product at this point."
Beebe told the Democrat the dispensary is anticipating only a small number of Missouri dispensaries will open when product becomes available. She advised patients to be prepared for lines and wait times. 
"So (we're) just asking people to maybe be patient and know that we're going to do our best to serve everybody but there's also almost, I think there's 65,000 patients right now waiting," Beebe said. "So there's expected to be some lines and a wait when they come. You add COVID to that, so we'll do our best to manage the process to keep everybody safe."
The company has teamed up with Midwest Cannabinoid Clinics to help patients obtain their medical marijuana cards from the DHSS. MCC is a "Missouri-operated clinic that provides secure and affordable telemedicine appointments for patients seeking a medical marijuana card and for those interested in learning more about cannabinoid products," according to the release.
Anyone interested in obtaining a Missouri medical marijuana patient card can visit www.mhwdispensaries.com under the "Patient Cards" tab and sign up for a consultation with MCC.
The Sedalia dispensary is at 1801 S. Limit Ave. No reservations are needed, but patients and other residents interested in medical marijuana are encouraged to call MH&W at 877-999-6649, visit www.mhwdispensaries.com or text "MWH" to 844-983-4016 to sign up for updates.