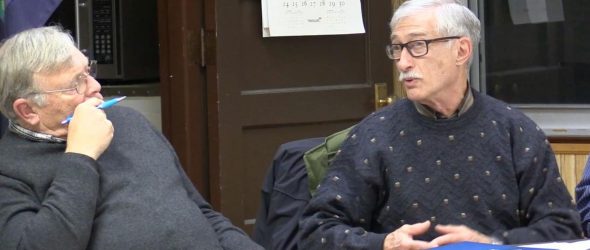 https://cannabisexaminers.com/wp-content/uploads/2019/11/5de1b04fc0791.image.jpg
SPRINGFIELD — If Vermont eventually creates a system for commercial cannabis sales, local governments should have a strong voice in how it's done, according to a resolution approved by the Springfield Select Board on Monday.
The board voted 4-1 to adopt an amended resolution supporting municipal authority in a commercial cannabis system, should the state approve one. The board held the consensus that Vermont communities that opt out of hosting cannabis businesses should not receive any shared revenue from taxes.
Selectman Peter MacGillivray said towns that opt-out shouldn't receive "free money" from taxation of what other communities elect to host.
"Many (Vermont) communities have huge ski areas that generate large amounts of money, but we in Springfield don't get that," MacGillivray said. "The same applies here. If (commercial cannabis) generates large amounts of money, the hosting community should be the sole beneficiary of that money."
The resolution, drafted by the Vermont League of Cities and Towns (VLCT), recommends measures to protect the authority and flexibility of local governments under a hypothetical commercialization system.
The resolution proposes authorizing local governments with the power to regulate and tax cannabis businesses in their community, a choice for municipalities to opt-in to hosting commercial cannabis and a revenue sharing formula that guarantees all communities receive a revenue portion.
The Springfield Select Board objected, however, to two parts of the VLCT provision. In the board's amended version, the resolution changes the "opt-in" for municipalities to an "opt-out," and removes the language that would distribute 30% of the collected tax revenues to municipalities that don't host commercial cannabis.
Select Board Vice Chairman Walter Martone, though saying he would support the change, also made clear that he understood the intent of proposing a share to non-hosting communities. Martone said that legislators for opt-out communities may not support a commercialization bill if there is no benefit to their constituents.
"I think this was an attempt to bring everyone into the tent, to say there will be something of benefit to everyone, whether you agree to host or not," Martone said.
In an article titled "Recreational Marijuana — Closer than Ever" by VLCT Policy Advocate Gwynn Zakov, VLCT recommends the state bill enacts a local marijuana tax of 5%. Thirty percent of the revenues derived from this tax would be pooled and redistributed to municipalities that do not host retail establishments. Hosting municipalities would receive the remaining 70% of revenues.
"They are giving the lion's share to the towns that are hosting, but they are trying to recognize an argument being made where, if I'm a next-door town, I'm going to have additional costs for police protection, emergency services, (etc.)," Martone said. "(Those opt-out towns) are anticipating the impact of neighboring towns to be significant, so they want to have a reason to support it."
But Martone said he supported amending the sharing in Springfield's resolution since he did not believe removing the provision would have an impact.
Also, the board said the legislation should authorize commercialization in all Vermont communities, so that municipalities who do not wish to host cannabis retail must formally opt-out.
Selectman George McNaughton said that the "opt-in" provision could potentially weaken and even kill the legislation. McNaughton said he suspects opponents of commercial cannabis hope that requiring municipalities to opt-in will result in fewer potential communities to host retail than if requiring communities to formally opt out.
Selectman Michael Martin agreed. He said this issue has been a stumbling block, and that the process should be more involved for municipalities to opt-out than opt-in.
"If you're pro-marijuana, you want to say opt-out, and make communities who don't want to be part to say no," Martin said.
Though not part of the drafted resolution, Martin expressed an additional concern about commercial zoning under current Vermont statute, which permits agriculture-related businesses to be zoned in any commercial area.
"My big concern with cannabis production is that if somebody calls it an agricultural business, it bypasses all our zoning regulations," Martin said. "And I think that should be addressed as well."
The lone no-vote came from Select Board Chairman Kristi Morris.
Morris said Tuesday that he supported the proposed amendments, but voted "no" because he wanted more time to discuss the topic and consider additional changes to the resolution.