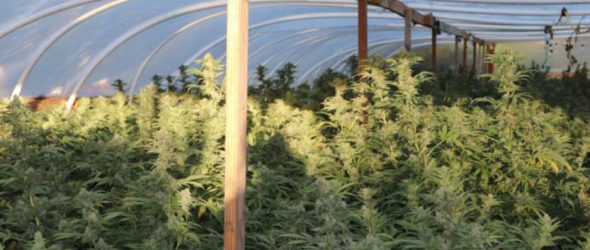 https://cannabisexaminers.com/wp-content/uploads/2020/04/marijuana+seized+siskiyou.JPG
SISKIYOU COUNTY, Calif. – Siskiyou County Deputies seized more than 140 marijuana plants after stopping a driver on Monday for erratic driving.
The incident happened in the area of County Road A-12 and Machado Lane at 4:40 p.m.
Deputies said the driver claimed he had 15 marijuana plants he was transporting to another state. Throughout the investigation, over 142 marijuana plants were found in the vehicle in five separate boxes.
The driver and passenger were arrested and charged with illegal possession of marijuana charges, Sheriff John Lopey said.
"This is a good time to remind Siskiyou County residents that NSMIT and SCSO's Siskiyou Interagency Marijuana Investigation Team (SIMIT) is open for business and even though we are plagued by the COVID-19 emergency, our department, SIMIT, and NSMIT are already on the lookout for illegal marijuana cultivation sites in Siskiyou County," Sheriff Lopey said. "We have already fielded a number of calls from citizens complaining about illegal sites in their communities and we will respond to these calls for assistance and we will work diligently to eradicate illicit cannabis-related cultivation sites, illegal greenhouses, and other illegal drug operations in the unincorporated areas of the county."
In 2019, more than 61,000 illegal pot plants were seized, along with nearly 18,000 pounds of processed pot, valued at millions of dollars.
County supervisors declared a local emergency in January because of the impacts of illegal pot grows.