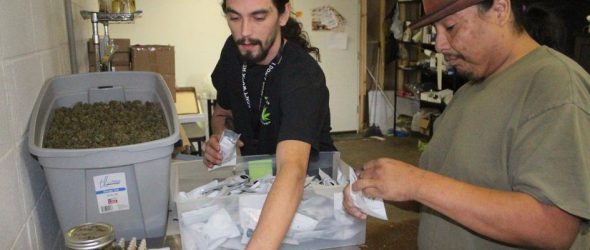 https://cannabisexaminers.com/wp-content/uploads/2019/11/5de0ccbdb3bf8.image.jpg
When the Oklahoma Medical Marijuana Act passed, it included language to prevent employers from discriminating against applicants or penalizing employees based on their medical marijuana licenses.
But that doesn't mean everyone in Oklahoma can use medical marijuana without losing their jobs. In March, Gov. Kevin Stitt signed into law the Oklahoma Medical Marijuana Use and Patient Protection Act, also known as the Unity Bill, and it provided framework for employers to take medical marijuana use into consideration when applicants or employees pursue or have safety-sensitive jobs.
Members of the medical marijuana industry agree that people of certain professions should not be under the influence of the green-leafy substance or its derivatives. Joseph Gibson, owner of Potent Processing LLC, specializes in the wholesale of cannabis concentrates, and he doesn't think people in certain positions should be using it.
"Does a boss have the authority to be like, 'No, you can't treat your Crohn's disease with a herb that hasn't killed anybody ever and that people have been using for thousands of years?' I wouldn't say so," said Gibson. "However, if your job is safety sensitive or it's a specific job that requires focus and training, and it's a danger if not done properly – absolutely."
Once workers clock out for the day, though, Gibson said it should be "their own business."
The dispensary scene in Tahlequah, and across Oklahoma, has exploded since the medical marijuana law was passed. The change has employers considering their options regarding its use by employees.
A statement from Northeastern State University officials indicated the recent passage of State Question 788 has generated much conversation and inquiry.
"It is important to remember that marijuana is still illegal under federal law and is specifically prohibited on any NSU campus and/or property owned or controlled by NSU, including university housing. Additionally, faculty, staff, and students may not come to class or work under the influence of marijuana," said the statement.
Because it receives federal funding, NSU abides by the federal Drug-Free Schools and Communities Act Amendments of 1989, which prohibits the use of marijuana; and the federal Drug Free Workplace Act, which bans the unlawful manufacture, distribution, possession and use of illicit drugs and alcohol in the workplace.
"This includes medical marijuana," the statement read. "Finally, as more and more states legalize the possession and use of doctor-prescribed medical marijuana, we anticipate the re-examination of federal laws, at which time NSU will revise its policies accordingly."
The federal government is likely considering new options for medical marijuana use. It's been a talking point among candidates for the Democratic presidential primary, and the U.S. House Judiciary Committee just approved an act that, if it becomes law, would decriminalize marijuana in the country.
Until any change is made, though, laws granting medical marijuana use in Oklahoma exclude tribal lands.
According to the Cherokee Nation Attorney General's Office, "the possession and distribution of marijuana remains illegal under tribal and federal law. Medical marijuana use is not exempt under Cherokee Nation Human Resources policy and procedure."
City of Tahlequah employees, such as active police officers, are not allowed to obtain medical marijuana cards. The city's policy for other employees does not mention the use of medical marijuana outside of work, but it does imply a worker could be terminated if he or she tested positive for any type of drug.
According to the city's Alcohol and Controlled Substance Testing Policy and Procedures: "The City of Tahlequah believes that it is in the best interest of the employees to prevent, treat and eliminate drug, alcohol, and chemical substance abuse in the work place. Any employee found using, possessing, selling, distributing or being under the influence of an illegal chemical substance and/or alcohol during working hours or on City property or driving City vehicles will be subject to discipline up to and including termination."
According to the Human Resources Director M'Lynn Pape, the policy falls in line with the state's Standards for Workplace Drug and Alcohol Testing Act. In the act, cannabinoids are included under the definition of "drug," and THC – the substance primarily responsible for the psychoactive effects of cannabis – is a cannabinoid.
Those who apply for positions with the city undergo drug testing. Employees may also be tested when there is reasonable suspicion of substance abuse in the workplace, or if an accident has occurred while the employee is on the job.
According the policy, the city requires random drug testing, required by state and federal law, for any worker who operates a vehicle or equipment that requires a Commercial Drivers License, and who operates equipment in excess of 26,001 pounds; mechanic employees; any employee involved in the repair, operation or dispatching of vehicles and equipment; and police officers and other employees engaged in safety sensitive positions.
Furthermore, the city's policy states that the city of Tahlequah has the right to take disciplinary action for a confirmed positive test result when "reasonable and appropriate under the totality of the circumstances."
Employees who test positive are not allowed to return to work until they can provide a verified negative test. They're allowed a maximum of 12 weeks to provide the negative "return to work" test. If it is not provided within 12 weeks, the employee could be suspended, demoted, or terminated.
Also, city employees and applicants are given a Drug and/or Alcohol Testing Consent Form to fill out, in which employees confirm that they understand refusal of a drug screen test, or a positive result on a drug test, is grounds for termination; and applicants confirm the same situation could result in the withdraw of any conditional offer of employment.
What's next
The second installment will focus on laws regarding the transportation of medical marijuana and the industry's discretion on customer information.