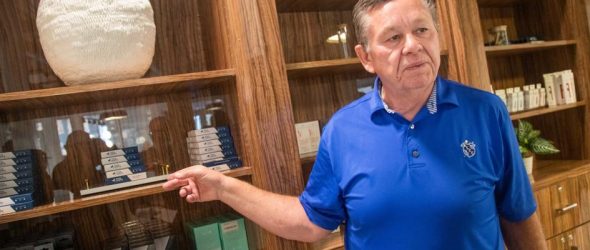 https://cannabisexaminers.com/wp-content/uploads/2020/05/5eacb35318430.image.jpg
SOUTH OGDEN — The medical cannabis industry didn't initially spark much interest in Mike Standlee. To the contrary.
"Ten years ago, I was totally against (it), to be real honest about it," he said.
After studying the issue and experiencing first-hand the effects of medical cannabis, though, Standlee changed his tune — ultimately investing in the medical cannabis industry in Arizona. His Utah firm, True North of Utah, was subsequently awarded the rights by state officials to build a marijuana growing operation in Box Elder County. On Friday, the company formally opened its second cannabis dispensary, just outside Newgate Mall in South Ogden.
"Yes, I'm totally a believer in the product," said Standlee, who uses a cream infused with tetrahydrocannabinol, or THC, the active ingredient in marijuana, to help with neck pain. "After I did my research, I found it was helping a lot of people."
The new dispensary, Perfect Earth Modern Apothecary, becomes the third cannabis pharmacy in the state, in addition to True North's first Perfect Earth outlet in North Logan and Dragonfly Wellness in Salt Lake City. It also represents another step forward in development of Utah's nascent medical cannabis industry, permitted per the 2018 Medical Cannabis Act.
And the demand seems to be there. Friday's opening drew a long line of customers, allowed inside the facility at 3775 S. Wall Ave. only a few at a time to assure social distancing and prevent the spread of coronavirus.
Tim Pearl, director of operations for the South Ogden and North Logan pharmacies, said many of the customers seemed to be versed and knew what they needed. Utah law requires that medical cannabis users have a cannabis card issued by the Utah Department of Health or a cannabis recommendation letter from a medical provider. The South Ogden locale offers THC-infused tinctures, marijuana flowers and vaping cartridges. Edible products are in the offing.
MORE THAN 3,000 CANNABIS CARDS
Though the medical cannabis industry in the state is developing, it hasn't been without its stops and starts.
"We always anticipated there would be hiccups and hurdles," said Desiree Hennessy, executive director of the Utah Patients Coalition, which pushed for the legislation allowing creation of the medical cannabis industry here. She was on hand Friday for the opening of the new South Ogden store.
But the problems — an initial backup in issuing cannabis cards, for instance, when the process started last March — are getting addressed. Since late March, the number of medical cannabis cards issued to Utah patients has grown to 3,013, up from 1,076 in late March, according to Richard Oborn, director of the Utah Department of Health's Center for Medical Cannabis. The number of qualified medical providers who can recommend use of medical cannabis has reached 292, up from 203 in late March.
"There's, I think, a need to be patient. This is really new in Utah. It takes time for the system to mature," Oborn said.
Fourteen cannabis pharmacies in all are permitted under Utah law, while eight companies — including one planning an operation in Weber County — have been licensed to cultivate marijuana to provide the products for the dispensaries.
Hennessy, while expecting more pharmacies to start operation in June or July, said lack of medical providers is a lingering issue. Some physicians "just don't feel they have enough information" to knowledgeably advise those seeking medical cannabis recommendations, she said.
"We need more. It's too few. I would like it to become more of a mainstream practice," she said.
For his part, Standlee thinks scientists have only "scratched the surface" in determining the range of medical benefits from cannabis. He founded Kimberly, Idaho-based Standlee Premium Western Forage, which produces forage for horses, but stepped away from the firm to focus on the cannabis industry.
Having seen growth in the medical marijuana sector across the United States, Standlee is bullish on prospects here. He's an investor in The Flower Shop, a medical cannabis operation in Arizona.
"The benefits of cannabis are so broad, I look at the program continuing to grow and succeed," he said.