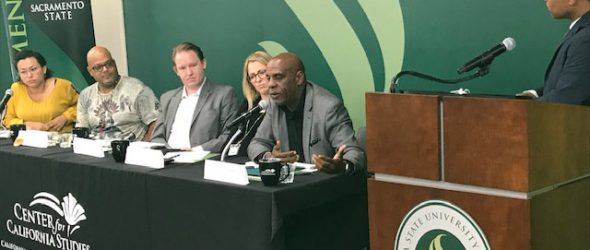 https://cannabisexaminers.com/wp-content/uploads/2019/10/POTGATHERING2.jpg
Panelists discuss issues relative to how tax revenue from recreational cannabis sales can benefit communities hurt by the old federal government "war on drugs." (Sacramento State/Cynthia Hubert)
By Cynthia Hubert
California must do more to help minorities and economically disadvantaged people reap the benefits of the state's legal recreational marijuana industry, panelists said during a Sacramento State event on Oct. 3.
The discussion, "Cannabis in California: Closing the Equity Resource Gap," was part of the Envisioning California Speaker Series, organized by Sac State's Center for California Studies.
California is believed to represent the world's largest market for recreational marijuana, an industry that is expected to generate hundreds of millions of tax dollars annually. Experts at the Sac State event are leading efforts to ensure that people whose communities were targeted by the federal government's controversial "war on drugs" campaign get a piece of the pie.
The federal anti-drug effort, which began in the 1970s and ramped up enforcement and penalties for drug offenses, "has cast a dark and ugly cloud across communities across our country," said Ali Cooper, owner of a consulting firm that serves cannabis entrepreneurs. Studies have shown that the war on drugs resulted in soaring arrest and imprisonment rates that disproportionately affected African Americans.
In 2016, California voters passed a measure legalizing recreational marijuana use. State and local governments are crafting policies and regulations around the cultivation, distribution and use of cannabis, and determining how tax dollars from its sale should be spent.
A handful of California cities, including Oakland, San Francisco and Sacramento, have launched Cannabis Equity Programs. The programs are designed to help low-income people, including those arrested for past cannabis crimes, to succeed in the legal marijuana business by offering them loans, grants and technical and business support.
"Equity is an issue that should concern us, regardless of the type of industry," said state Sen. Steven Bradford, who authored legislation that created California's equity program for the cannabis industry. "The promise of billions of dollars should be afforded to all Californians, and so far we know that is not the case."
Nicole Elliott, Gov. Gavin Newsom's senior advisor on cannabis, said the governor is "deeply committed" to ensure that communities most affected by the war on drugs receive their share of tax revenue from the industry. California took in $345 million in tax revenue from legal cannabis during the first year of regulated sales in 2018, $10 million of which was set aside for equity programs, according to figures kept by the state.
The number of people entering the legal marijuana business has been far below projections, in part because of an extraordinarily complex and costly application and licensing process in the newly regulated industry, panelists said. Operators of cannabis businesses must obtain both state and local licenses, a process that can cost tens of thousands of dollars. In addition, many local jurisdictions ban recreational pot sales.
"It's very complicated to start and run a cannabis business in California," said Max Mikalonis, a former legislative staffer who helped create state policy around the issue.
Leslie Valencia, who authored a comprehensive study on equitable cannabis policy, said the marijuana industry has the potential to create tens of thousands of jobs and generate $3 billion a year in tax revenue.
A substantial amount of those resources should be used to help fuel commerce and development in marginalized communities, she said.
"It took generations of damage for us to get where we are," Valencia said, "and it will take generations to repair the damage."